Back-To-Back! Lakers Rally, Beat Celtics In 7 For 16th Title!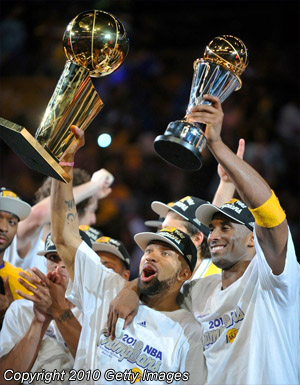 It wasn't pretty, but it couldn't have felt sweeter, as the Los Angeles Lakers won their 16th NBA Championship (2nd straight) 83-79 over the Boston Celtics Thursday night at the Staples Center, in a thrilling Game 7.
The Lakers, pushed to the brink of elimination just two days earlier, rallied from a 13-point second half deficit in Game 7, led by the hard-nosed play of Pau Gasol who scored 19 points and grabbed 18 rebounds, and Ron Artest who put in 20 points and recorded 5 steals.
Kobe Bryant struggled shooting the ball all night, going 6-24 from the field, but still managed to score 23 points and grab 15 rebounds. His 17-footer with just over five minutes left in the fourth quarter put the Lakers up 68-64, as they held on down the stretch for the win. Bryant was named the series MVP, averaging 28.6 points, 8 rebounds, and 3.9 assists, his second straight Finals MVP award, and his fifth title.
The game was ragged all night, with both teams struggling to find any rhythm offensively, as it seemed everyone was feeling the pressure of a seventh game. The Celtics built a 49-36 lead late in the third quarter before the Lakers chipped away and got it to 64-61 midway through the fourth, when Derek Fisher hit a high-arcing 3-pointer to tie the game. That play seemed to breath life into the Lakers as they took the lead on two Kobe Bryant free throws and never looked back. The title was Fisher's fifth as well, as he once again showed his big game heroics.
Phil Jackson, who may retire this offseason, won his 11th title as a coach, putting him now two ahead of Red Auerbach all-time. His teams are now an amazing 48-0 when winning the first game of any series.
The win marked the first time the Lakers have beaten the Celtics in a Game 7, they previously were 0-4 in such situations against the men in green. The Lakers franchise now sits just one title behind Boston (17-16) for the most all-time. Before the 80's, the lead was 13-6 in favor of the Celtics.
With the core of the team returning next season, there is no reason why the Lakers can't get their first 3-peat since 2000-2002. But for now, all is right with the world, the Lakers are champs….again!!
No comments yet.
No trackbacks yet.
about 1 year ago - No comments
Even though it was a very disappointing season on the court for the Lakers, we wanted to make sure our stats database was completely up-to-date after its conclusion, and that has been finished. Hopefully next year we'll have a lot more to celebrate. Any questions about anything on the site, please feel free to ask…