Lakers Beat Spurs Again, 90-86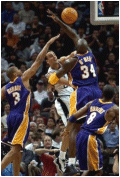 For the third time this season, the Los Angeles Lakers have rediscovered their winning ways against the San Antonio Spurs. This time, they beat the champs 90-86 at the SBC Center in San Antonio on Wednesday night.
The Lakers used a stifling fourth quarter defense to turn a nine-point third quarter deficit into a four-point victory. The Spurs shot only 16.7% (3-of-18) from the field in the final quarter, and Shaquille O'Neal contributed five of his game-high nine blocks in the quarter to seal the win.
Devean George, who kept the Lakers in the game with some early hot shooting, finished with 18 points on 7-of-13 from the field, and 3-of-4 from beyond the arc. Karl Malone scored 16 and grabbed 10 rebounds, while Gary Payton added 16 points and six assists.
The Spurs led the game in the first half by as many as 15 points, but simply could not hold the lead as the Lakers applied defensive pressure throughout the second half. After shooting over 50% from the field for most of the game, the Spurs finished at only 41.7%, the Lakers at 42.3%. The Lakers also forced 20 San Antonio miscues, turning them into 22 points.
The win was the Lakers seventh in a row, and they now own the season series against the Spurs, who dropped to 9-10 with the fourth consecutive loss. The Lakers are an NBA-best 15-3, 5-3 on the road.
Tim Duncan led the Spurs with 30 points and 15 rebounds, but he missed all five of his shots in the fourth quarter.
The Lakers finish up their two-game Texas trip tonight at Dallas, where the Mavs will most likely be without All-Star forward Dirk Nowitski, who is nursing a sore ankle.
Link: LakerStats.com Box Score
Link: NBA.com Recap
No comments yet.
No trackbacks yet.
about 1 year ago - No comments
Even though it was a very disappointing season on the court for the Lakers, we wanted to make sure our stats database was completely up-to-date after its conclusion, and that has been finished. Hopefully next year we'll have a lot more to celebrate. Any questions about anything on the site, please feel free to ask…