Archive for
November, 2003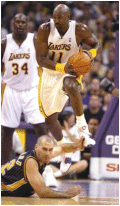 In a game most figured would be close, the Los Angeles Lakers pounded the Indiana Pacers 99-77 Sunday night at Staples Center, in a battle of two teams with the NBA's best records.
The win for the Lakers was their 25th straight at home, setting a Los Angeles franchise-record. The previous record of 24 was set 15 years ago.
Shaquille O'Neal scored 18 of his 23 points in the second half, and Karl Malone played another solid game with 11 points and a game-high 15 rebounds.
In a quiet night, Kobe Bryant added 12 points and 7 assists and Gary Payton took just 7 shots, scoring 8 points. But on this night, their offensive output wasn't needed, as the Lakers got solid efforts from the entire roster.
The Laker defense was smothering, forcing the Pacers into 23 turnovers and shooting just 39.1% from the field.
On the other hand, the Lakers shot 48.0% from the floor and 42.9% from beyond the arc, as they scored 99 points against the league's best defense. Before the game the Pacers were allowing just 80.4 points per game.
The Lakers led the game 46-37 at the half, with O'Neal plagued with foul trouble. In the second half with him back on the court, the Lakers surged to a 68-51 lead after three quarters, and never looked back. The Lakers have beaten their last six opponents by an average of just under 20 points.
The Pacers were led by Al Harrington, who scored 18 points off the bench. Their leading scorer, Jermaine O'Neal, had foul problems of his own and scored just 14 points.
The Lakers now head to on the road for a "Texas-Two-Step." They'll play Wednesday night against in San Antonio against the World Champion Spurs, a team they just beat by 16 two days ago, then Thursday at Dallas, before heading home.
Link: LakerStats.com Box Score
Link: NBA.com Recap