Posts tagged
franchise
Game #13 – January 13, 2021

(10-3)
128
-
99

(5-6)
Chesapeake Energy Arena – Oklahoma City, OK
Team Leaders Lakers
Points – James 26, Harrell 21, Davis 18
Rebounds – Davis 7, Morris 7, 3 Players Tied With 6
Assists – James 7, Schroder 5, Horton-Tucker 4
Team Leaders Thunder
Points – Gilgeous-Alexander 17, Roby 11, 2 Players Tied With 10
Rebounds – Roby 9, 3 Players Tied With 5
Assists – Maledon 4, Roby 4, Williams 4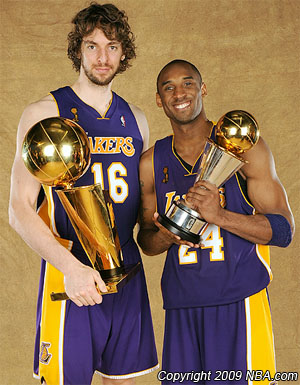 The Los Angeles Lakers took home the 2009 NBA Championship defeating the Orlando Magic 99-86 Sunday night in Orlando.
The title marked a whirlwind year for Lakers, who rebounded from last year's crushing defeat in Boston in Game 6 of the Finals, to a convincing 4-1 series win over Orlando this year. Kobe Bryant was named the Finals MVP, averaging 32.4 points and 7.4 assists for the five games. It also marked the first time Kobe has won the award, and he now has four NBA titles, his first since 2002.
Phil Jackson also set a milestone with the win, giving him 10 titles as a coach, finally passing the Celtics' legendary Red Auerbach. It was Jackson's first championship in seven years, ending the longest title-less stretch of his career. He was won 10 titles in his 19 years as a head coach, six with the Bulls and now four with the Lakers.
The win also gives the Laker franchise it's 15th world title, second all-time in league history, and once again only two behind the Boston Celtics. They've now won 10 titles in Los Angeles, and Jerry Buss has nine as owner.
Besides Kobe's heroics, the Lakers can also thank Derek Fisher for hitting two clutch 3-pointers in Game 4 that helped propel the team to a 3-1 series lead, and ultimately the title in Game 5. For the popular Fisher, he now joins Kobe with four titles, bringing his career full circle after returning to the Lakers in 2007.
Pau Gasol and Lamar Odom both rebounded from a sub-par Finals against the Celtics last year to help the Lakers dominate inside and control the Magic's All-Star center Dwight Howard, who had trouble get untracked offensively for most of the series. It was the ultimate victory for the two players, who took their share of off-season criticism they were "too soft" to lead the Lakers up front to a title. How untrue that statement turned out to be.
Congrats to Laker fans everywhere! A parade celebrating the Lakers win will be on Wednesday, June 17 starting at 11 AM near Staples Center.