Posts tagged
Long Beach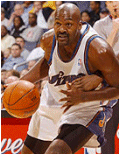 Bryon Russell, who spent most of his 10-year career with Karl Malone and the Utah Jazz, has signed with the Lakers today.
Russell, who averaged 4.5 points and 3.0 rebounds in 70 games with the Washington Wizards last season, was a second-round draft pick of the Utah Jazz in 1993. The Cal State Long Beach graduate spent his first nine seasons in Utah, and has the dubious distinction of being the defender on Michael Jordan's title-clinching shot in the 1998 NBA Finals.
The Lakers hope Russell can fill the small forward hole left vacant by Rick Fox, who continues to recover from off-season ankle surgery, and may not be able to play until January.
Russell has career averages of 8.7 points, 3.7 rebounds and 1.3 assists.