Posts tagged
Month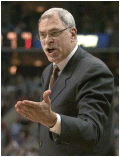 Phil Jackson, along with Indiana's Rick Carlisle, were named NBA Coaches of the Month for games from October 28th through November.
The Lakers were 14-3 through November, and have won 25 straight home regular season games, including a 10-0 start this year. They're also currently on a 6-game winning streak and have impressive blow-out wins over Indiana and San Antonio in the last week.
The Lakers are second in the league in scoring at 103.1 points per game, and in field goal percentage at .472.
Link: NBA.com – Carlisle, Jackson Named Coaches of the Month