Posts tagged
quarter comeback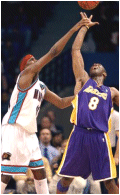 If the Los Angeles Lakers don't start to play some defense, there is no possible way they will regain the NBA title come June. Monday night's game in Memphis was another shining example of what is turning into a major achilles heel for the team.
The Grizzlies dominated the game after the 1st quarter, stretching their lead to 16 after three quarters, and the Lakers got no closer than seven after that.
Memphis shot over 50% from the floor for most of the game, before a 4th quarter slide dropped them to a still respectable 49%. The Lakers again tried to rally with a furious 4th quarter comeback, but simply could net get enough defensive stops to get back in the game.
Shaquille O'Neal led the Lakers with 20 points and 12 rebounds, but only managed to take 14 shots in 41 minutes. Kobe Bryant again struggled for most of the game, hitting only 5-of-15 shots, although he did finish with 19 points, but six turnovers.
Gary Payton, nursing a sore ankle he sprained in practice on Sunday, played only 27 minutes, scoring six points on 3-of-6 from the field. The Lakers bench continues to do nothing aside from Derek Fisher who scored 9 points.
Devean George was one of the few Laker bright spots. He scored 17 points, made 6-of-7 shots, including 3-of-4 from beyond the arc. The Lakers only shot 44% from the field for the game.
The Grizzlies were led by Pau Gasol who scored 22 points and grabbed 11 rebounds. Memphis' defense played well all night as, they forced the Lakers into 23 turnovers, including a stunning 17 steals.
The Lakers return home for three games starting Wednesday against Toronto at Staples Center. The Lakers finished their road trip with a 2-2 record, and are now riding a two-game losing streak after winning their first five games to start the season.
Bottom line, the Lakers need to play better defense and stop turning the ball over if they expect to win games, especially on the road.
Link: LakerStats.com Box Score
Link: NBA.com Recap