Posts tagged
conference
While the season definitely didn't end the way the Lakers or its fans expected, with a stunning Conference Semi-Finals sweep at the hands of the Dallas Mavericks, several Lakers did win some NBA postseason league awards that are worth noting.
Sixth Man of the Year - Lamar Odom (1st)
First Team All-NBA – Kobe Bryant (9th, 6th straight season)
First Team All-NBA Defense – Kobe Bryant (9th, 6th straight season)
Second Team All-NBA – Pau Gasol (1st)
J. Walter Kennedy Citizenship Award – Ron Artest (1st)
The Lakers have called a press conference today to announce that Lamar Odom has won the NBA's Sixth Man of the Year Award.
Odom had his best all-around season as a Laker in 2010-11, averaging 14.4 points, 8.7 rebounds, and 3.0 assists predominantly off the bench for the two-time defending NBA champs. He also shot career-highs of 53.0% from the field and 38.2% from the three-point line. Odom started 35 games in the absence of center Andrew Bynum, and is one of six Lakers to play in all 82 regular season games.
It's the first major award for Odom, who came to the Lakers from the Miami Heat in the Shaquille O'Neal trade in 2004. Always one of the NBA's most-versatle players, Odom was a starter his entire career before Phil Jackson asked him to move to the bench before the 2008-09 season. He has flourished in the role helping the Lakers win the last two NBA titles.
Odom also becomes the first Laker to win the award.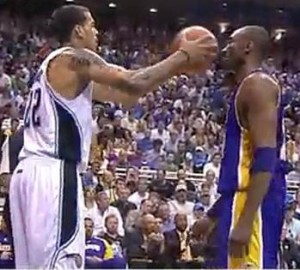 When reading about Matt Barnes, you often find the terms "defense", "toughness", and "outside shooting".  He describes himself as a football player playing basketball.  After playing at UCLA, he was drafted by Memphis in a pick from Orlando, then his rights were traded to Cleveland.  I don't find that at all confusing.  Really.  The Lakers will be his 8th team in his 8th season in the pros.  This 6'7″ 30 year old small forward will primarily serve as back-up to Ron Artest, although he could also get some spot minutes at shooting guard.  Like the signing of Theo Ratliff, Matt Barnes will be able to provide some defense off the bench.  Barnes averaged 9 points and 5.5 rebounds in 81 games last year.  He was arrested September 8th on charges of felony domestic violence and for preventing his fiancee Gloria Govan from talking to 911 operators.  He posted a $50,000 bail and was released.  Govan made a statement a few days after his arrest saying that the charges are false.  Sacramento County prosecutors will decide October 18 whether they will press charges.  It is possible that the league or team may decide to suspend him for a couple of games, even if no charges are filed.  Although that would make me question the presumption of innocence that is supposedly the foundation of our legal system.  Fortunately, the Lakers have experience dealing with legal troubles during the season, and should be able to maintain focus.  And small forward is a position where the Lakers have depth.  Barnes said all the right things in his press conference, that he was happy to be with the Lakers and it was a dream come true.  He is hungry for a championship and will contribute coming off the bench in whatever capacity the team says is necessary.  Having veterans on the time still looking for their first ring is a good safeguard against complacency setting in.  I consider this free agent acquisition a major upgrade, and one of the reasons the bench is much better than it was last season.  Lakers Three-Peat!