Lakers Extend Streak to 27, Beat Knicks 98-90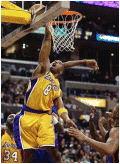 The New York Knicks are the last road team to win a regular season game at Staples Center, dating back to last February. Lightning didn't strike twice on Tuesday, as the Lakers dispatched the New Yorkers 98-90 to run their home winning streak to 27 games.
Kobe Bryant led a very-balanced Laker attack, which featured five players in double-figures, led by Bryant's 21, and nine assists. Karl Malone added 20 points on 9-of-15 from the floor.
A rejuvenated Shaquille O'Neal scored 18 points, grabbed 15 rebounds, and had four blocked shots, as he continues to provide an inspired defensive presence. Gary Payton scored 17.
The Knicks got off to a quick start, and scored the game's first nine points and led 25-18 after one quarter. But turnovers hurt the Knicks all night, and by halftime, New York found themselves down by 12.
The Lakers never completely put the Knicks away, but they never allowed them to get closer than six points in the second half. The Lakers forced 21 New York turnovers, and scored 19 fast-break points which helped to offset being out-rebounded 52-38.
For the game, the Lakers shot 43.0% from the field, to the Knicks' 42.4%. The Lakers made 28-of-39 free throws, while New York made 13 of 17.
The Knicks were led by Shandon Anderson and Howard Eisley who each scored 26 points. New York was playing without their leading scorer Allan Houston, who is nursing a knee injury.
The Lakers' next game is Friday against the Dallas Mavericks at Staples Center, as they try to extend their home regular season winning streak to 28.
Link: LakerStats.com Box Score
Link: NBA.com Recap
No comments yet.
No trackbacks yet.
about 2 years ago - No comments
Home Team: Timberwolves / Lakers History vs. Timberwolves Game #29 – February 16, 2021 (22-7) 112 – 104 (7-21) Target Center – Minneapolis, MN Team Leaders Lakers Points – James 30, Schroder 24, Harrell 17 Rebounds – James 13, Harrell 6, Gasol 5 Assists – James 7, 3 Players Tied With 3 Team Leaders Timberwolves Points –…