Pau Gasol: Greatest Steal in NBA History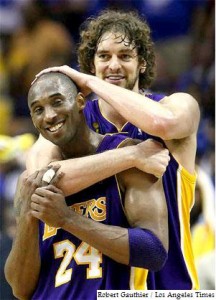 After losing in the Finals in 2004, the Lakers traded Shaq to Miami and missed the playoffs the following season.  The following season, the Lakers were eliminated in the first round of the playoffs after leading the series 3-1.  In the 2007 playoffs, the Lakers were again eliminated by the Phoenix Suns, this time in 5 games.  A few weeks later, Kobe Bryant requested to be traded, saying he'd go play on Pluto.  He then waffled on the issue, saying that he hoped the Lakers would improve the team personnel so that he could remain in Los Angeles.  Rumors abounded about possible deals and trade packages over the summer.  Sometimes the best trades are those that are never made.  The Lakers opened the season losing at home to Houston.  The starters were Derek Fisher, Kobe Bryant, Kwame Brown, Ronny Turiaf and Luke Walton.  Jordan Farmar, Andrew Bynum, Maurice Evans, Brian Cook, Chris Mihm and Coby Karl came off the bench.  Also on the roster were Vladimir Radmanovic, Lamar Odom, Sasha Vujacic and Javaris Crittenton.  The Lakers started the season 25-11 before Andrew Bynum dislocated his kneecap and missed the rest of the season.  The Lakers then went 3-5.  Then on February 1, the Lakers traded Brown, Crittenton, Aaron McKie (who was an assistant coach with Philadelphia), the draft rights to Marc Gasol, a 2008 1st round pick (Donte Green) and a 2010 1st round pick (Greivis Vasquez) for Pau Gasol and a 2010 2nd round pick (Devin Ebanks).  After Gasol joined the team, the Lakers  finished 22-5, ending the season with the best record in the Western Conference and 3rd best overall.  Although they lost to the Celtics in the finals, the Lakers were certainly back in championship form.  They have now won back-to-back titles, and should be favored to reach the finals again this season, for the fourth consecutive year.  With Pau, the team received a 27 year old, 7 foot All Star who plays center and power forward.  The Grizzlies received a very unpopular Laker, an unneeded guard, an unsigned player, another team's coach, and two late round picks.  Maybe San Antonio Coach Gregg Popovich is right, and there should be a committee to "scratch all trades that make no sense".  I can't think of another NBA trade so lopsided as this one, where the impact was significant and immediate.   Of course, it must have made some kind of sense to Memphis at the time.  Here is an excellent article on the trade:
http://articles.latimes.com/2010/jan/31/sports/la-sp-lakers-gasol31-2010jan31
No comments yet.
No trackbacks yet.
about 2 years ago - No comments
Home Team: Celtics / Lakers History vs. Celtics Game #21 – January 30, 2021 (15-6) 96 – 95 (10-8) TD Garden – Boston, MA Team Leaders Lakers Points – Davis 27, James 21, Harrell 16 Rebounds – Davis 14, James 7, Kuzma 6 Assists – James 7, Schroder 7, 2 Players Tied With 2 Team Leaders Celtics…