vclakerfan
This user hasn't shared any biographical information
Posts by vclakerfan
The world is full of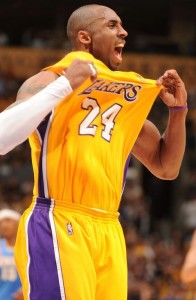 Kobe haters.  I acknowledge this fact.  As a fan of Magic Johnson, I understand that Kobe's personality does not endear him to the average fan, the media or those who do not follow the NBA.  While I believe both Magic and Kobe are about winning, Magic always seemed to showed his happiness and enjoyment more willingly.  
Kobe had some legal trouble years ago.  And I think many haters justify their emotions based on the accusations that were made at the time.  The fact that he was not convicted and the prosecution was forced to drop the case when his accuser decided she didn't want to testify in court is not important to the haters.  To some, being accused of something means you are guilty despite the official verdict.  I refuse to accept that perception; our legal system is based on the presumption of innocence until proven guilty.  Others would argue that he admitted to adultery and that makes him an evil person.  Ignore the fact that 50% of married women and 60% of married men have an affair while married. 
Kobe-haters say that Kobe drove Shaq out of town.  I look at Shaq and Kobe as teammates who played together for awhile, and then needed to go in different directiaons because they could no longer play together.  While I regret that the two of them were unable to put their egos aside and learn to co-exist, I believe it is team management that actually controls the roster.  Jerry Buss has said that he made the decision not to extend Shaq's contract based on Shaq's age, injury history and physical condition.  And Shaq has criticized every organization he has left, as well as many of his former teammates and coaches.  To put all the blame on Kobe and none on Shaq is wrong.  
Other haters say Kobe is a selfish ball-hog who shoots too much and doesn't pass the ball.  If you ever watch classic games when they are replayed, you will see that this is untrue.  Of course, Kobe shot the ball.  He is arguably the second best shooting guard to ever play the game, after Michael Jordan.  When Kobe scored 81 against Toronto a few years back, the starting line-up was Kobe, Smush Parker, Lamar Odom, Kwame Brown and Chris Mihm.  And with that line-up, I would have advised Kobe to shoot as often as he liked.  I don't really care about the number of shots he takes.  I look at two factors.  Is he making a decent percentage of them?  Somewhere between 45 – 50% is my benchmark.  And did the team win? 
Kobe-haters say Kobe is egotistical and smug.  I would argue that his domination in the new millenium is proof that he actually has been the best player in the league over the past decade.  LeBron James refers to himself as the King; I guess he's king of the regular season.  Kobe is king of the post-season, which is having your priorities in the correct order.  Kobe has 5 championships in 7 final appearances; Magic had 5 championships in 9 final appearances.  LeBron has 0 championships in 1 final appearance.  My vote for most egotistical NBA player has to go to LeBron. 
Here is a past article by a self-proclaimed Kobe Hater http://www.slate.com/id/2141287/
Here is the source for the adultery stat: http://www.catalogs.com/info/relationships/percentage-of-married-couples-who-cheat-on-each-ot.html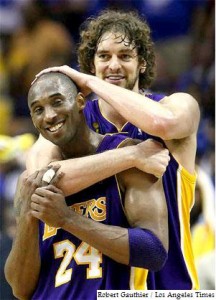 After losing in the Finals in 2004, the Lakers traded Shaq to Miami and missed the playoffs the following season.  The following season, the Lakers were eliminated in the first round of the playoffs after leading the series 3-1.  In the 2007 playoffs, the Lakers were again eliminated by the Phoenix Suns, this time in 5 games.  A few weeks later, Kobe Bryant requested to be traded, saying he'd go play on Pluto.  He then waffled on the issue, saying that he hoped the Lakers would improve the team personnel so that he could remain in Los Angeles.  Rumors abounded about possible deals and trade packages over the summer.  Sometimes the best trades are those that are never made.  The Lakers opened the season losing at home to Houston.  The starters were Derek Fisher, Kobe Bryant, Kwame Brown, Ronny Turiaf and Luke Walton.  Jordan Farmar, Andrew Bynum, Maurice Evans, Brian Cook, Chris Mihm and Coby Karl came off the bench.  Also on the roster were Vladimir Radmanovic, Lamar Odom, Sasha Vujacic and Javaris Crittenton.  The Lakers started the season 25-11 before Andrew Bynum dislocated his kneecap and missed the rest of the season.  The Lakers then went 3-5.  Then on February 1, the Lakers traded Brown, Crittenton, Aaron McKie (who was an assistant coach with Philadelphia), the draft rights to Marc Gasol, a 2008 1st round pick (Donte Green) and a 2010 1st round pick (Greivis Vasquez) for Pau Gasol and a 2010 2nd round pick (Devin Ebanks).  After Gasol joined the team, the Lakers  finished 22-5, ending the season with the best record in the Western Conference and 3rd best overall.  Although they lost to the Celtics in the finals, the Lakers were certainly back in championship form.  They have now won back-to-back titles, and should be favored to reach the finals again this season, for the fourth consecutive year.  With Pau, the team received a 27 year old, 7 foot All Star who plays center and power forward.  The Grizzlies received a very unpopular Laker, an unneeded guard, an unsigned player, another team's coach, and two late round picks.  Maybe San Antonio Coach Gregg Popovich is right, and there should be a committee to "scratch all trades that make no sense".  I can't think of another NBA trade so lopsided as this one, where the impact was significant and immediate.   Of course, it must have made some kind of sense to Memphis at the time.  Here is an excellent article on the trade:
http://articles.latimes.com/2010/jan/31/sports/la-sp-lakers-gasol31-2010jan31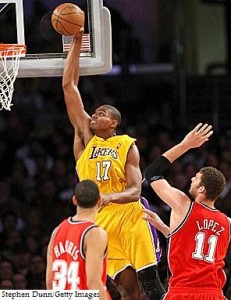 As with any NBA player, the question with Andrew Bynum is will he live up to his potential?  He could be the 2nd best center in the league after Dwight Howard.  Bynum's health is the difference between the Lakers being in contention for a championship or being an intimidating juggernaut.  While the frequency of his injuries is a concern, the timing of them has also been a problem.  Drew is to be commended for playing hurt in last season's playoffs after not playing in the 2008 finals, but I am wondering if it is possible for him to be healthy for the playoffs.  He has played all 82 games only one time in his 5 years; he has averaged 56 games per season.  Bynum did not play college ball, so entering his 6th season he will only be 23 at the start of the season.  Of course, he will not be playing the start of the season as he recovers from knee surgery in the off-season.  If he can come back healthy (relatively) and stay healthy and average double-doubles for the playoffs, then I think the Lakers should keep Bynum.  If Bynum misses the start of the season, misses more time during the regular season, and is limping around in the playoffs, then the Lakers should seriously consider trading Bynum and his $13.7 million contract.  Plan B for the Lakers, which you will be seeing the at the start of the season, is to have Gasol play center and have Odom start at power forward.  Doing this reduces the depth of the Laker bench.  So as with Sasha and Walton, I consider this a pivotal year in Bynum's career.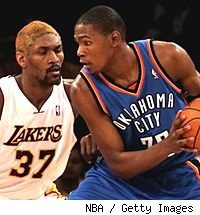 If you said anything about Ron Artest, no matter how outrageous and off the wall, would people really have trouble believing it?  For example, Ron Artest recently expressed unhappiness that Pluto is no longer considered a planet.  He will be getting his own reality show on E! entitled "They Call Me Crazy".  Since he's a producer on the show, you have to figure the title was approved, if not created, by him.  A New York native, Artest played at St. John's University, and then played professionally for Chicago, Indiana, Sacramento, Houston and now Los Angeles.  This 6'7″ 30 year old small forward will be starting his second season with the Lakers; he will be more experienced in the triangle offense, but he should not be the primary or secondary option within it.  Prior to last season, there was some concern with how Ron Ron would fit in and what his impact on team chemistry would be, but I think the end results from the playoffs were pretty good.  As long as he continues to play lock-down defense and to make a few key shots in the playoffs, it's all anyone could ask from Artest.  Of course, he continues to be an excellent interview and active on Twitter; his lack of predictably is what make him entertaining.  As the sole Laker not to participate in the ring ceremony at the beginning of last season, one hopes he'll be even hungrier for a second ring this season.  He has committed to selling the ring from last season as a fundraiser to help provide for more psychologists and therapists in schools:
http://www.lakerstats.com/category/news/page/2/
Ron Artest on Pluto:
http://sports.yahoo.com/nba/blog/ball_dont_lie/post/Ron-Artest-loves-Pluto-hates-that-it-is-not-a-p;_ylt=Ah.eR5pS9RverqdNriicUo9gPKB4?urn=nba-271334
My prediction is Derek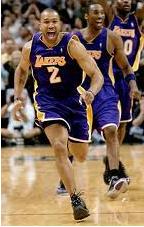 Lamar Fisher will hang'em up after his current contract expires in three years, when he'll be almost 40.  You didn't think he was going to retire now, did you?  After winning his 5th NBA Championship with Kobe Bryant and Phil Jackson in his 11th year as a Laker, there is no reason to think he won't continue playing for more rings.  This 6'1″ 36 year old was born in Little Rock, Arkansas and played there in college; he will be playing his 15th year in the pros this season.  Fisher has numerous detractors; no one would argue that he is the best point guard in the league.  He is just the best point guard for the Lakers, providing leadership and clutch shooting.  He has the highest 3-point field goal percentage in NBA Finals history, and is second in made 3-pointers.  The good thing about Fisher slowing down as he ages is that he wasn't exactly quick in his youth, so the decline is less drastic than with speedier players like Allen Iverson.  And at least Fisher is durable, having played every game in 7 of the last 8 seasons and averaging 80 games in the 12 seasons he didn't have a serious injury.  With the Lakers having an excellent back-up for Fisher, the goal should be to limit his minutes during the regular season and have him well rested for the playoffs. Fisher is president of the National Basketball Players Association, and Theo Ratliff is vice president.