Posts tagged
fly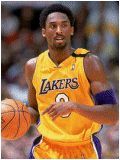 Kobe Bryant, who was scheduled to fly out on a private plane with other Laker veteran players for Hawaii's training camp, did not make the trip Thursday, October 2nd, due to being "under the weather."
Lakers general manager Mitch Kupchak had no other information on Bryant's absence, and refused to say anything further regarding the situation.
Laker coach Phil Jackson added, "We're obviously disappointed that Kobe's not here with the basketball club, with his teammates. This is a team thing, it's about us as a basketball team and what the best is for our team. So we'll commence tonight and go on as usual. No one is bigger than this team or the game. That's the way it is."
Earlier in the day, Colorado judge Frederick Gannett ruled that the accuser' in Bryant's sexual assault case, would not have to testify at the preliminary hearing, and that the hearing would be open to the public. There have been no indications that Bryant's absence from training camp has anything to do with these events.
Jackson said he did not know when or even if Bryant would show up for the team's training camp in Hawaii, but he did say, "We have plenty of players, we have a good team, we're confident in what we're going to do. We're hopeful Kobe will join us and that's as much I can say about it."
Reporters have already flocked to the the islands in droves, hoping to get comments from Bryant, and the team is expecting even more media attention over the next few days. Jackson said he tried to call the Laker All-Star on Wednesday, but was told he wasn't taking calls.
Stay tuned.