Posts tagged
thing
So he finally wins a title and a ring in the NBA, and the first thing Ron Artest wants to do is sell it?  Well that's what he plans to do, according a report on NBA.com.
In his campaign to promote mental health, Artest will sell his championship ring as a fundraiser to help provide more psychologists and therapists in schools.  Quite a bold and classy act for a man who once started US professional sport's most-notorious brawl in Detroit in 2003.
"You work so hard to get a ring, and now you have a chance to help more people than just yourself, instead of just satisfying yourself," he said. "What's better than that? For me, this is very important."
Artest hopes to raise awareness in one of college sport's most under-covered issues, mental health.  And by doing his part to help make mental health therapy more readily available to students at a younger age, there is hope it will curtail the attempts of suicide amongst college players.  According to the report on NBA.com, around 20-25 athletes in Division I sports attempt suicide each year.
You really need to take your hat off to Ron.  The turnaround he has made in his career, with all of his admitted emotional issues, is quite amazing.   Rarely do you see an athlete attack his own demons head-on during his playing years like he has, and come out a winner.
If you're interested in the entire story about Artest and his battle with mental-health awareness, you can read it on NBA.com.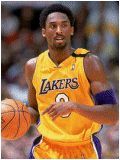 Kobe Bryant, who was scheduled to fly out on a private plane with other Laker veteran players for Hawaii's training camp, did not make the trip Thursday, October 2nd, due to being "under the weather."
Lakers general manager Mitch Kupchak had no other information on Bryant's absence, and refused to say anything further regarding the situation.
Laker coach Phil Jackson added, "We're obviously disappointed that Kobe's not here with the basketball club, with his teammates. This is a team thing, it's about us as a basketball team and what the best is for our team. So we'll commence tonight and go on as usual. No one is bigger than this team or the game. That's the way it is."
Earlier in the day, Colorado judge Frederick Gannett ruled that the accuser' in Bryant's sexual assault case, would not have to testify at the preliminary hearing, and that the hearing would be open to the public. There have been no indications that Bryant's absence from training camp has anything to do with these events.
Jackson said he did not know when or even if Bryant would show up for the team's training camp in Hawaii, but he did say, "We have plenty of players, we have a good team, we're confident in what we're going to do. We're hopeful Kobe will join us and that's as much I can say about it."
Reporters have already flocked to the the islands in droves, hoping to get comments from Bryant, and the team is expecting even more media attention over the next few days. Jackson said he tried to call the Laker All-Star on Wednesday, but was told he wasn't taking calls.
Stay tuned.