Posts tagged
luxury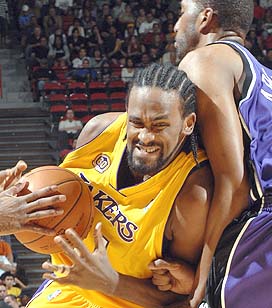 Lakers' restricted free-agent forward, Ronny Turiaf has agreed to a reported 4-year $17 million deal with the Golden State Warriors today. The Lakers now have seven days to match the offer.
Turiaf agreed to the contract a little more than a week after the Lakers extended him a qualifying offer of around $1 million. Turiaf had his best season as pro averaging 6.6 points and 3.9 rebounds in nearly 19 minutes per game last year.
Should Turiaf depart, the Lakers will undoubtedly be looking for another big body up front to replace the team's most-emotional player. Journeyman forward Kurt Thomas' name has come up as someone who could replace Turiaf, with not nearly the same price tag.
Turiaf's deal also clouds Sasha Vujacic's return to the Lakers, as he will probably command even more money than the French-born forward. He may get mid-level exception offers, which is around $5.8 million, from other teams. It is unknown if the Lakers would use their exception to keep him.
While Lakers' GM Mitch Kupchak has repeatedly said he very much wants to keep both Vujacic and Turiaf in purple and gold, the Lakers are already over the salary cap, and owner Dr. Jerry Buss does not like paying the league luxury tax for exceeding it. So it remains to seen what happens with both players, and if the Lakers will match Turiaf's deal with the Warriors.
Stay tuned.