Posts tagged
tenacity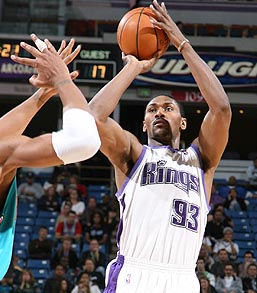 According to the Sacramento Bee, the Lakers have contacted the Kings about a trade for mercurial forward Ron Artest.
Details of the deal are sketchy, but it appears the Lakers are offering Lamar Odom for Artest, and forward Kenny Thomas. The Kings would love to get rid of Thomas' $18 million salary over the next two years, but it's questionable whether the Lakers would take that on considering they are already over the salary cap.
It is also very questionable whether the Kings would agree to make a trade with the Lakers considering the teams' intense dislike for each other, and the fact they reside in the same division. Odom's $14-million salary does come of the books after next season, which does make him an attractive trade piece.
It's no secret that Artest likes the Lakers and is good friends with Kobe Bryant. The Lakers could definitely use his perimeter defense and tenacity on that end of the court. He's also a dependable scorer and can hit from beyond the 3-point line.
Stay tuned for further developments if something should break.