Brett
This user hasn't shared any biographical information
Posts by Brett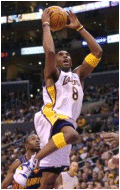 It may not have been pretty, but the Los Angeles Lakers moved to 3-0 on the young season, as they beat the Golden State Warriors 87-72 behind Kobe Bryant's 21 points.
The game was marred by sloppy play, as both teams combined for 37 turnovers. The Lakers managed to overcome shooting just 43% from the floor as they led the game wire to wire. The Warriors shot an even more miserable 37% from the field, and managed to hit only 20% (3 of 15) from beyond the arc.
Bryant led all scorers with 21 points, he also had five steals, and looked much more fluid in his second game back. He also played 35 minutes after logging 37 last night in Phoenix.
Shaquille O'Neal put up 17 points and 14 rebounds, Karl Malone added 16, and Gary Payton chipped in with 10 points and 11 assists. Devean George continues to benefit from starting with the "Fab Four," as he had another strong game, scoring 12 points on 6-9 shooting and grabbing seven rebounds.
The Lakers will spend the next week on the road, for a tough four-game road trip which will take them to Milwaukee, San Antonio, New Orleans, and Memphis. The team will need to play with more intensity on the road than they did this night, especially with a showdown against the World Champion Spurs on Thursday.
The Warriors, who were missing several players, including starting guard Jason Richardson (serving the final game of a three-game suspension), were led by Clifford Robinson's 19 points. Erick Dampier also grabbed a game and career-high 23 rebounds.
Link: LakerStats.com Box Score
Link: NBA.com Recap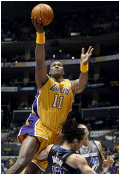 Even with Kobe Bryant out of the lineup, the Lakers didn't miss a beat, pummeling the Dallas Mavericks 109-93 on the NBA's opening night.
The stars of the night were most definitely newcomers Karl Malone and Gary Payton, who shone in their Laker regular season debuts.
Malone nearly had a triple-double as he tallied 15 points, 10 rebounds, and 9 assists in an all-around stellar game. Payton led the Lakers with 21 points, he also dished out 9 assists and grabbed 7 rebounds.
Payton and Malone led a very balanced attack, as six Lakers scored in double figures. Shaquille O'Neal, fresh off his recent feud with Bryant, Derek Fisher, and Devean George all scored 16 points, while another newcomer, Bryon Russell, added 10 off the bench.
The Mavs never were able to get into the flow of the game, and found themselves down 14 after one quarter and 10 at the half. They got no closer than seven points in the second half, and never really mounted a serious challenge. They managed to shoot only 38% from the field for the game.
Bryant, who was sidelined because of knee surgery, joined his teammates on the bench in the 4th quarter, just in time for the festivities as the Lakers' lead ballooned to 19. He even sat next to O'Neal, as the two try to put their war of words to rest, and get on with the season. Bryant says he hopes to be ready to play Saturday at Phoenix.
Dallas was led Dirk Nowitski and Antoine Walker who each scored 19 points.
Link: LakerStats.com Box Score
Link: NBA.com Recap

One night after an 18-point win in their preseason opener, the Lakers never got on track Wednesday, as the Warriors returned the favor from the previous night with a 99-83 victory.
The Lakers led 24-22 after one quarter, but never were really able to sustain any momentum, as the Warriors dominated the rest of the game, outscoring the Lakers 77-59 over the next three periods.
After the starters gave the Lakers the lead in first quarter, Coach Phil Jackson went with primarily younger players in the second, which is when the game got out of hand. "We won the first quarter with the first unit out there," Jackson said. "The second quarter was a nightmare."
"We had a breakdown out there. We had a little bit of offensive confusion. As soon as that happened, the players went to their natural instincts which is try and to score on their own, outside the context of what our offense is."
The Lakers never did make a serious run in the second half, rallying to within 12 points at 59-47 early in the half, but never getting any closer. For the game, the Lakers shot only 37.2% from the field, including a horrendous 26.3% in the first half. By contrast, Golden State shot 51.9% for the game.
Gary Payton led the Lakers with 11 points. Shaquille 0'Neal, Kareem Rush, and Jannero Pargo each chipped in 10. Karl Malone
scored eight points and grabbed six rebounds.
The Warriors were led by Speedy Claxton, who tallied 20 points in the win.
The Lakers next preseason game will be Tuesday, October 21 against the Phoenix Suns in San Diego at 7:30 PM Pacific Time. Kobe Bryant, who is in Colorado today for his court proceedings, is expected to make his preseason debut in that game.
Link: Yahoo! Box Score

Box Score
The Los Angeles Lakers, and their new cast of players, including Karl Malone and Gary Payton, scored an easy 107-89 win over the Golden State Warriors Tuesday night in Hawaii, in both teams' exhibition opener.
A noticeably slimmer and quicker Shaquille O'Neal scored 16 points and grabbed six rebounds in just 18 minutes, and Payton added 12 points and seven assists as the Lakers coasted to victory. O'Neal was particularly active on the defensive end, blocking two shots, including a devasting swat of a Mike Dunleavy jump shot in the third quarter.
Kobe Bryant took part in the team's pre-game shootaround, but is not expected to play in either of the two games in Hawaii. Bryant is scheduled to fly out today (Wednesday) to Colorado for his court proceedings on Thursday. Coach Phil Jackson believes the All-Star guard will be able to play next Tuesday against the Phoenix Suns in San Diego.
Slava Medvedenko and Jannero energized the Lakers bench, which looks to be vastly improved from last season. Both players scored 14 points while combining to hit 13 of 20 shots from the field.
In his first game for the purple and gold, Malone scored seven points and had three rebounds in only 22 minutes. Derek Fisher chipped in with 10 points, including a perfect 2-2 from 3-point land.
Jason Richardson led the Warriors with 20 points, and former Detroit Piston Clifford Robinson added 15.
The two teams meet again tonight in Honolulu. Game time is 11:00 PM Pacific Time.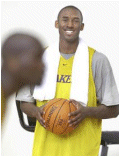 After missing the first day of training camp, Kobe Bryant arrived early Saturday morning, and attended a light practice with the his teammates.
Bryant admitted he was out of game shape, and said he even considered not playing until his legal troubles were settled. "Basketball just took a back seat, man," he said.
The All-Star guard said he decided only last month to play, with the blessing of his wife Vanessa. "You know, I have a job to do. This is my job, coming back to work. My family and I, we've been dealing with this for a while now and we're going to continue to deal with it. I'm coming back to work and do what I do," he added.
When asked if he was scared about his case, he replied, "Terrified. Not so much for myself, but just for what my family is going through. They had nothing to do with this, but just because their names have been dragged through the mud. I'm scared for them."
During the offseason, Bryant underwent surgery on his right shoulder and also had minor knee surgery the day after he is charged with committing the sexual assault. He said stress affected him to the point where he couldn't train.
"I've got work to do," Bryant said. He also spent part of Saturday riding a stationary bike.
Bryant is due back in court next Thursday in Eagle, Colorado, for the premilinary hearing to determine if he will stand trial on rape charges.