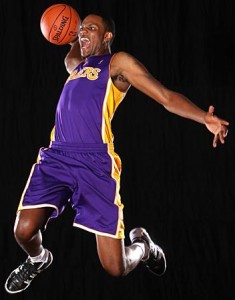 As rookies, Devin Ebanks and Derrick Caracter can count on spending a lot of time at the end of the bench during the regular season, if they're not shipped off to the Developmental League.  In either case, you can view the presence of the rookies as addition by subtraction, as they won't have to do much of anything to match the output of Josh Powell and Adam Morrison.  Plus the combined salaries are considerably lower.  And they are young.  Ebanks, a 6'9″ 215 lb small forward from West Virginia, is only 20.  Caracter, a 6'9″ 265 lb power forward from Texas-El Paso, is 22.  As second round draft picks, no one should suffer from super high expectations here.  I would only expect to see them playing in the preseason and games that are routs (one way or the other).   My hope is that they work hard in practice, learn the offense, and realize that their role, coming off the bench, is to preserve and build on any lead that the starters create.  Last season It seemed to me the bench was keen on jacking up long distance shots when they didn't turn the ball over, and letting the opposition drive to the basket without offering much resistance.  In short, perfo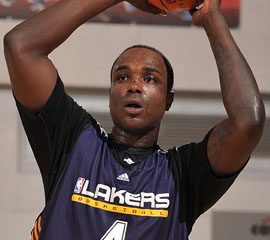 rming poorly both offensively and defensively.  
Ebanks has been compared to Trevor Ariza, and if he's as good defensively, that works for me.  The Lakers are a little thin at the power forward position, so I believe Caracter will have more opportunities for playing time.  There have been some comparisons to Shaq, as far as commitment to conditioning anyway.  His contract has incentives for him not to balloon up in weight.
The Lakers are one of the more veteran teams, so I like having a little youth as well. Management was sufficiently impressed with their potential to sign them to contracts, so here's hoping they contribute in some fashion to the Three-peat.
It's a long season, so having players that the coach has enough faith in to play during the season, thereby allowing the starters to rest, is critically important.