Posts tagged
Clifford Robinson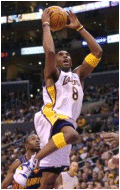 It may not have been pretty, but the Los Angeles Lakers moved to 3-0 on the young season, as they beat the Golden State Warriors 87-72 behind Kobe Bryant's 21 points.
The game was marred by sloppy play, as both teams combined for 37 turnovers. The Lakers managed to overcome shooting just 43% from the floor as they led the game wire to wire. The Warriors shot an even more miserable 37% from the field, and managed to hit only 20% (3 of 15) from beyond the arc.
Bryant led all scorers with 21 points, he also had five steals, and looked much more fluid in his second game back. He also played 35 minutes after logging 37 last night in Phoenix.
Shaquille O'Neal put up 17 points and 14 rebounds, Karl Malone added 16, and Gary Payton chipped in with 10 points and 11 assists. Devean George continues to benefit from starting with the "Fab Four," as he had another strong game, scoring 12 points on 6-9 shooting and grabbing seven rebounds.
The Lakers will spend the next week on the road, for a tough four-game road trip which will take them to Milwaukee, San Antonio, New Orleans, and Memphis. The team will need to play with more intensity on the road than they did this night, especially with a showdown against the World Champion Spurs on Thursday.
The Warriors, who were missing several players, including starting guard Jason Richardson (serving the final game of a three-game suspension), were led by Clifford Robinson's 19 points. Erick Dampier also grabbed a game and career-high 23 rebounds.
Link: LakerStats.com Box Score
Link: NBA.com Recap

Box Score
The Los Angeles Lakers, and their new cast of players, including Karl Malone and Gary Payton, scored an easy 107-89 win over the Golden State Warriors Tuesday night in Hawaii, in both teams' exhibition opener.
A noticeably slimmer and quicker Shaquille O'Neal scored 16 points and grabbed six rebounds in just 18 minutes, and Payton added 12 points and seven assists as the Lakers coasted to victory. O'Neal was particularly active on the defensive end, blocking two shots, including a devasting swat of a Mike Dunleavy jump shot in the third quarter.
Kobe Bryant took part in the team's pre-game shootaround, but is not expected to play in either of the two games in Hawaii. Bryant is scheduled to fly out today (Wednesday) to Colorado for his court proceedings on Thursday. Coach Phil Jackson believes the All-Star guard will be able to play next Tuesday against the Phoenix Suns in San Diego.
Slava Medvedenko and Jannero energized the Lakers bench, which looks to be vastly improved from last season. Both players scored 14 points while combining to hit 13 of 20 shots from the field.
In his first game for the purple and gold, Malone scored seven points and had three rebounds in only 22 minutes. Derek Fisher chipped in with 10 points, including a perfect 2-2 from 3-point land.
Jason Richardson led the Warriors with 20 points, and former Detroit Piston Clifford Robinson added 15.
The two teams meet again tonight in Honolulu. Game time is 11:00 PM Pacific Time.