Posts tagged
devean george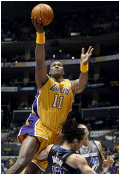 Even with Kobe Bryant out of the lineup, the Lakers didn't miss a beat, pummeling the Dallas Mavericks 109-93 on the NBA's opening night.
The stars of the night were most definitely newcomers Karl Malone and Gary Payton, who shone in their Laker regular season debuts.
Malone nearly had a triple-double as he tallied 15 points, 10 rebounds, and 9 assists in an all-around stellar game. Payton led the Lakers with 21 points, he also dished out 9 assists and grabbed 7 rebounds.
Payton and Malone led a very balanced attack, as six Lakers scored in double figures. Shaquille O'Neal, fresh off his recent feud with Bryant, Derek Fisher, and Devean George all scored 16 points, while another newcomer, Bryon Russell, added 10 off the bench.
The Mavs never were able to get into the flow of the game, and found themselves down 14 after one quarter and 10 at the half. They got no closer than seven points in the second half, and never really mounted a serious challenge. They managed to shoot only 38% from the field for the game.
Bryant, who was sidelined because of knee surgery, joined his teammates on the bench in the 4th quarter, just in time for the festivities as the Lakers' lead ballooned to 19. He even sat next to O'Neal, as the two try to put their war of words to rest, and get on with the season. Bryant says he hopes to be ready to play Saturday at Phoenix.
Dallas was led Dirk Nowitski and Antoine Walker who each scored 19 points.
Link: LakerStats.com Box Score
Link: NBA.com Recap