Posts tagged
eagle colorado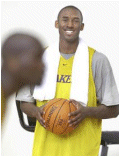 After missing the first day of training camp, Kobe Bryant arrived early Saturday morning, and attended a light practice with the his teammates.
Bryant admitted he was out of game shape, and said he even considered not playing until his legal troubles were settled. "Basketball just took a back seat, man," he said.
The All-Star guard said he decided only last month to play, with the blessing of his wife Vanessa. "You know, I have a job to do. This is my job, coming back to work. My family and I, we've been dealing with this for a while now and we're going to continue to deal with it. I'm coming back to work and do what I do," he added.
When asked if he was scared about his case, he replied, "Terrified. Not so much for myself, but just for what my family is going through. They had nothing to do with this, but just because their names have been dragged through the mud. I'm scared for them."
During the offseason, Bryant underwent surgery on his right shoulder and also had minor knee surgery the day after he is charged with committing the sexual assault. He said stress affected him to the point where he couldn't train.
"I've got work to do," Bryant said. He also spent part of Saturday riding a stationary bike.
Bryant is due back in court next Thursday in Eagle, Colorado, for the premilinary hearing to determine if he will stand trial on rape charges.