Posts tagged
offseason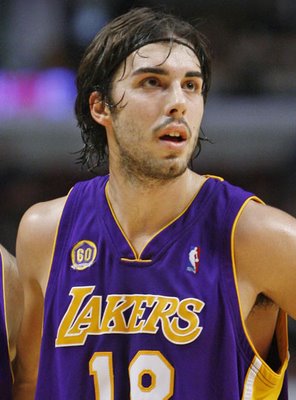 According to the Riverside Press-Enterprise, the Lakers have signed restricted free-agent guard Sasha Vujacic to a three year contract, worth $15 million.
The signing comes just one week after the Lakers failed to match the Warriors' 4-year, $17 million deal for their other restricted free-agent, forward Ronny Turiaf. There were also serious rumblings from Vujacic's camp that he may return to Europe for more money.
The Lakers originally offered a 3-year, $12 million deal that Vujacic and his agent turned down, and then threatened to accept an offer from a team in the Europe if they didn't get a better one from the Lakers.
"The Machine" had his best season last year, as he averaged 8.8 points and 43.8% of his 3-pointers off the bench for the Western Conference champs. He also had a very memorable Game 3 of the NBA Finals, where he scored 20 points and nailed a clutch 3-pointer in the final minutes to give the Lakers the victory.
Management's goal this offseason was to keep both Turiaf and Vujacic, and after they lost one, they wanted to make sure they kept one of their top bench players, and their most prolific long-range shooter. They did.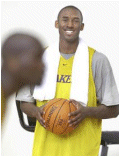 After missing the first day of training camp, Kobe Bryant arrived early Saturday morning, and attended a light practice with the his teammates.
Bryant admitted he was out of game shape, and said he even considered not playing until his legal troubles were settled. "Basketball just took a back seat, man," he said.
The All-Star guard said he decided only last month to play, with the blessing of his wife Vanessa. "You know, I have a job to do. This is my job, coming back to work. My family and I, we've been dealing with this for a while now and we're going to continue to deal with it. I'm coming back to work and do what I do," he added.
When asked if he was scared about his case, he replied, "Terrified. Not so much for myself, but just for what my family is going through. They had nothing to do with this, but just because their names have been dragged through the mud. I'm scared for them."
During the offseason, Bryant underwent surgery on his right shoulder and also had minor knee surgery the day after he is charged with committing the sexual assault. He said stress affected him to the point where he couldn't train.
"I've got work to do," Bryant said. He also spent part of Saturday riding a stationary bike.
Bryant is due back in court next Thursday in Eagle, Colorado, for the premilinary hearing to determine if he will stand trial on rape charges.