Posts tagged
life
Sorry it's been a while (well ok a long while) since Lakerstats statistics have been updated, but unfortunately real life got in the way of keeping everything current. But as you can see we're slowly getting last season updated and within the next few weeks we should be totally up to date. We got several emails asking us if we were still updating the site, and the answer is "yes," it's just been a little harder the last year or so. Appreciate hearing from those of you who do actually use these stats from time to time. Glad to know they are useful. Thanks!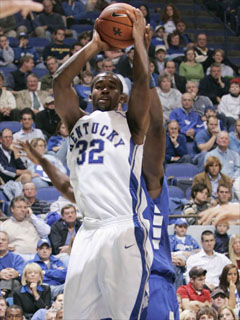 The Lakers, who only had one pick in Thursday's 2008 NBA draft, selected Kentucky guard Joe Crawford with the 58th pick.
Crawford, who stands 6'5″, averaged 17.9 points on 47% shooting in 30 games during his senior season at Kentucky. Those numbers earned him 2nd team All-Southeastern Conference honors.
Crawford was delighted to be drafted by the Lakers, and will take part in the team's summer league schedule, which starts on July 11. "It's something you've waited for all your life, when you started playing basketball," Crawford said. "To go to one of my favorite teams, to go to L.A., it's a feeling I can't explain. I had a great workout in L.A. I felt they were pretty interested in me after my workout. I'm excited about playing for a
championship-contending team."
Should he play well, Lakers' General Manager Mitch Kupchak has said the team will sign him to a contract. But Crawford might be hard-pressed to make the roster this season, especially if the Lakers re-sign Sasha Vujacic and Ronny Turiaf as they are planning to do once free-agent signings are allowed on July 1.