Posts tagged
summer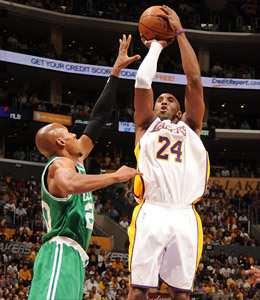 Further proof that Kobe Bryant's marketing image is in a huge upswing, the Lakers' guard is the fifth highest-earning athlete in the US, according to an article on SportsIllustrated.com.
Bryant, who won the NBA's Most-Valuable-Player Award this season and led the Lakers to an improbable NBA Finals berth, earned $35.5 million last year, including $16 million in endorsements. Tiger Woods leads the list at over $127 million. The only NBA player in the Top 5 besides Kobe is Lebron James at number three, at nearly $41 million.
Kobe's marketing image had taken a hit after rape allegations five years ago, then his openly-pubic feud with former-teammate Shaquille O'Neal, and ultimately the Lakers' struggles on the court. This season has served as vindication for Bryant.
He silenced his critics this yea as he had arguably his best team-oriented season, leading a group most figured would struggle to make the playoffs, to within two wins of an NBA title. He also did it after tearing a tendon in his pinkie that will require surgery before next season.
After last year's off-season turmoil where he demanded a trade from the Lakers, this summer should be much quieter for the content MVP, who hopes to bring home an Olympic gold medal for the US in Beijing in August.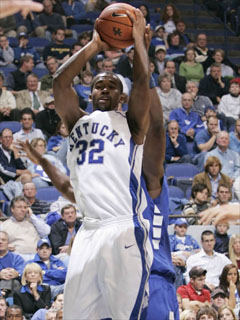 The Lakers, who only had one pick in Thursday's 2008 NBA draft, selected Kentucky guard Joe Crawford with the 58th pick.
Crawford, who stands 6'5″, averaged 17.9 points on 47% shooting in 30 games during his senior season at Kentucky. Those numbers earned him 2nd team All-Southeastern Conference honors.
Crawford was delighted to be drafted by the Lakers, and will take part in the team's summer league schedule, which starts on July 11. "It's something you've waited for all your life, when you started playing basketball," Crawford said. "To go to one of my favorite teams, to go to L.A., it's a feeling I can't explain. I had a great workout in L.A. I felt they were pretty interested in me after my workout. I'm excited about playing for a
championship-contending team."
Should he play well, Lakers' General Manager Mitch Kupchak has said the team will sign him to a contract. But Crawford might be hard-pressed to make the roster this season, especially if the Lakers re-sign Sasha Vujacic and Ronny Turiaf as they are planning to do once free-agent signings are allowed on July 1.