Archive for
11.14.2003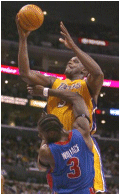 Behind a dominating second half from Shaquille O'Neal, the Los Angeles won their 19th straight regular season home game, beating the Detroit Pistons 94-89 on Friday night.
The winning streak marks the team's longest home run since they won 24 straight during the 1987-88 to 1988-89 seasons. The Lakers last loss came to the New York Knicks on February 16, 2003, 117-110. The team did lose twice in the playoffs last season.
The Lakers led the game early by 12, but found themselves in a dogfight by halftime, tied at 45.
O'Neal, who scored just six points in the first half, dominated the second, scoring 15 of his team-high 21 points. He narrowly missed a triple-double, as he also tallied 15 rebounds and eight assists. He also iced the game with two free throws in the final 20 seconds.
Gary Payton shared high scoring honors with O'Neal, as he also registered 21 points, and hit a clutch 3-point basket in the closing minutes to push the Laker lead to 90-83. "The Glove" has been struggling from beyond the arc so far this season, making only 4-of-18 prior to his 4th quarter basket.
Karl Malone, playing with a sore hamstring, scored 16 and grabbed nine rebounds, and Kobe Bryant, fresh off his return from a Colorado courtroom, chipped in with 16 points.
The Lakers defense held the Pistons to 43% shooting (37-of-87) from the field, and only 2-of-10 from beyond the arc, while shooting 47% themselves (36-of-76) from the floor.
Chauncey Billups had a strong night, scoring a game-high 29 points. He got little help from his teammates however, as Elden Campbell was the only other Piston in double-figures in scoring with 12.
The Lakers try to extend their home winning streak to 20 when they face the struggling Miami Heat on Sunday.
Link: LakerStats.com Box Score
Link: NBA.com Recap