Archive for
11.23.2003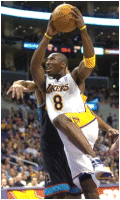 Even without Shaquille O'Neal, the Lakers put on one of their most impressive displays of the season, routing the Memphis Grizzlies 121-89 on Sunday night at home.
With O'Neal nursing a strained calf, the Lakers never missed a beat. Kobe Bryant helped pick up the slack, leading all players with 28 points. Karl Malone also had a very strong game, tallying 20 points and 10 rebounds in just 26 minutes, and Gary Payton chipped in with 17 points and 10 assists.
The Lakers blew what was a tight game open late in the second quarter, taking a 59-48 lead into the locker room, and leading 90-67 after three quarters.
For the game, the Lakers shot 59% from the field (45-of-76) and 90% (27-of-30), as they scored a season high 121 points. They also held the Grizzlies to 42% from the field, and forced Memphis into a season-high 24 turnovers.
The Lakers bench provided some big contributions. Slava Medvedenko, playing in his first game of the year because of a bruised heel, scored 14 points and grabbed 11 rebounds in 30 minutes. He also made seven of his eight shots from the floor. Bryon Russell had his second straight strong game, scoring 12 points on 5-of-6 from the field.
The Grizzlies were led by Shane Battier, who led the team with 18 points, coming off of the bench.
The Lakers next game is Wednesday at Staples Center against the Washington Wizards. Shaquille O'Neal's availability will again be a game-time decision.
Link: LakerStats.com Box Score
Link: NBA.com Recap