Archive for
11.19.2003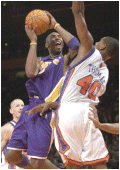 The Los Angeles Lakers ended their three-game road losing streak with a decisive victory 104-83 over the New York Knicks at Madison Square Garden on Wednesday.
The Lakers took a two-point halftime lead and ran away from the Knicks in the second half, outscoring them 53-34, to take the easy win. The Knicks were held to only 43% shooting from the floor, which was a vast defensive improvement for the Lakers, who allowed the Detroit Pistons to shoot 57% on Tuesday.
The big stat of the game was free throwing. The Lakers shot 47 free throws, making 37, while the Knicks took only six, making them all. The Knicks had five players with four fouls, and three others with three.
Shaquille O'Neal led the Lakers with 23 points, he also hit 11 of 16 from the foul line. Kobe Bryant scored 21 points, and Karl Malone added 17 points and a team-high 14 rebounds.
Frank Williams led the Knicks with 14 points, and he came off of the bench. Allan Houston, the team's leading scorer, was held to 10 points on 5-of-14 from the field.
The Lakers return home for a Friday night game against the Chicago Bulls at Staples Center.
Link: LakerStats.com Box Score
Link: NBA.com Recap