Quotables: Lakers Trounce Raptors 112-99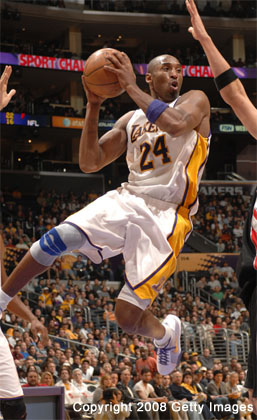 Here is a collection of quotes following the Lakers 112-99 win over the Toronto Raptors at Staples Center, to run their record to an NBA-best 14-1.
Lakers Coach Phil Jackson
On Kobe Bryant:
"He's looking to pass the ball. I thought he stayed aggressive in the things that we had to have."
On Team:
"I think 10-5 would have been great with us, but we've been playing well enough to get that momentum. Now we're just playing on momentum most of the time."
"It's human nature to get lackadaisical and for us to believe that things are going to go right for us because they have in the past. But we are only successful in the moment. And you have to prove it again and again, especially in sports."
On Andrew Bynum and his injury:
"There's going to be a period of adjustment he has to go through. He's going to have to find a way to get through this. And if he does, then we're going to feel pretty good until the next incident happens—and then we'll have to deal with that at that time. But unless this moves around in his foot, we're in pretty good shape if he can adjust his play to accommodate that."
Lakers Guard Kobe Bryant
On needing 38 points to become the youngest to 22,000 points:
"To be honest, I don't follow anything of that sort. I just go out there and do what I do, I don't care about that stuff. You guys got me all wrong. I just play. I play hard, and I play the same way all the time. I never concern myself with milestones or anything like that."
"We're just playing well, playing in rhythm. We understand each other. We've been together for a while."
"The first quarter was a little bit of a slow start for us defensively, but then we were able to dig our heels in and get used to the rhythm. We tried to corral Bosh a little bit. They had some double-digit deficits and the rhythm of the game was kind of getting away from them a little bit. They were looking to take some 3-point shots in transition and kind of got away from going to him a little bit."
Lakers Forward Pau Gasol
"We expect to win every night. We have great expectations. Fourteen-and-one doesn't surprise me with the team we have."
Lakers Center Andrew Bynum
"Our rebounding was big. They weren't very impressive inside with J.O. (Jermaine O'Neal) out and we were able to take advantage of it."
Lakers Forward Trevor Ariza
"We have the versatility to play any kind of way. The way the NBA is, that's a good thing because we can slow the ball down, we can run up and down the court, we can do whatever."
On putting inferior teams away early:
"Honestly, I don't know what it is. We're not doing it on purpose. Everybody in the NBA is a pretty good team. Most of the time, we can't just beat them in the first quarter."
Raptors Coach Sam Mitchell
"I saw a lot of good things. We showed a level of toughness. I thought we boxed out. We just couldn't get any rebounds. We got some good looks, but didn't make them all."
Raptors Forward Chris Bosh
"I know that good teams are not going to let me just get off offensively. They did a great job of trapping and their rotations were really good. I didn't get too many good shots all night and I made some costly turnovers."
No comments yet.
No trackbacks yet.
about 1 year ago - No comments
Even though it was a very disappointing season on the court for the Lakers, we wanted to make sure our stats database was completely up-to-date after its conclusion, and that has been finished. Hopefully next year we'll have a lot more to celebrate. Any questions about anything on the site, please feel free to ask…