LAKER ROSTER: Shannon Brown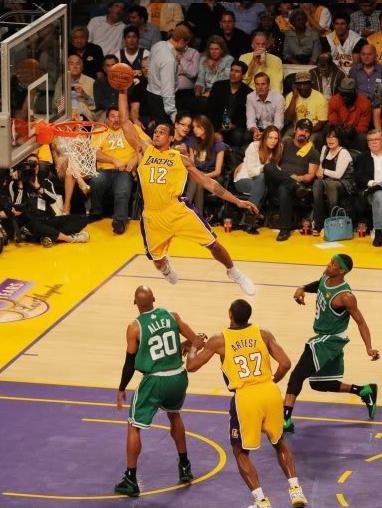 Over a period of several weeks this summer,  I expected to hear that Shannon Brown would be playing for the Knicks or some other team this season.  After all, he had opted out of his contract after contributing to the Laker's back-to-back championships. There were rumors circulating of bigger salaries being offered.  He had to know the Lakers, faced with having the league's highest payroll, would already be making a hefty payment to the league because of the luxury tax.  So in the end, after he received an extra year, a little more money and the privilege of continuing to get to play on a contending team, one concludes that it worked out well for all parties involved.  I was pleasantly surprised, although the argument could be made that Brown is not indispensable.  This 6'4″ 24 year old will be starting his fifth season in the pros after playing at Michigan State.  He will have the primary function of backing up Kobe at shooting guard. NBA analysts talk about the Lakers being neither young nor athletic.  Shannon Brown must be considered the exception to that statement, because of his youth and his vertical leap of 44.5″.  Last season he played in every game, averaging 21 minutes and 8 points for the regular season and 14 minutes and 5 points for the playoffs.  One hopes that with improved production from all off the bench, each starter will have a chance for more rest during the regular season and be in better physical condition when the playoffs start. 
And after his playing days, Shannon can continue with his side interest of guest starring in music videos.
Check out Toni Braxton http://www.youtube.com/watch?v=3cETtDC59-I and Monica http://www.youtube.com/watch?v=arCTOMGT9do
about 11 years ago - No comments
Steve Nash (Out) Nash (leg) will not play Friday against the Suns and only has a small chance to play Sunday against the Rockets, according to the LA Times. Steve Blake (Day-To-Day) Blake (abdominal strain) is uncertain of when he'll return to action, according to the LA Daily News. Jordan Hill (Day-To-Day) Hill sprained his…