Ron Artest: They Call Me Crazy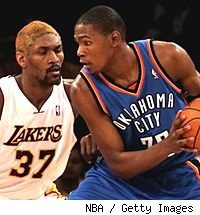 If you said anything about Ron Artest, no matter how outrageous and off the wall, would people really have trouble believing it?  For example, Ron Artest recently expressed unhappiness that Pluto is no longer considered a planet.  He will be getting his own reality show on E! entitled "They Call Me Crazy".  Since he's a producer on the show, you have to figure the title was approved, if not created, by him.  A New York native, Artest played at St. John's University, and then played professionally for Chicago, Indiana, Sacramento, Houston and now Los Angeles.  This 6'7″ 30 year old small forward will be starting his second season with the Lakers; he will be more experienced in the triangle offense, but he should not be the primary or secondary option within it.  Prior to last season, there was some concern with how Ron Ron would fit in and what his impact on team chemistry would be, but I think the end results from the playoffs were pretty good.  As long as he continues to play lock-down defense and to make a few key shots in the playoffs, it's all anyone could ask from Artest.  Of course, he continues to be an excellent interview and active on Twitter; his lack of predictably is what make him entertaining.  As the sole Laker not to participate in the ring ceremony at the beginning of last season, one hopes he'll be even hungrier for a second ring this season.  He has committed to selling the ring from last season as a fundraiser to help provide for more psychologists and therapists in schools:
http://www.lakerstats.com/category/news/page/2/
Ron Artest on Pluto:
http://sports.yahoo.com/nba/blog/ball_dont_lie/post/Ron-Artest-loves-Pluto-hates-that-it-is-not-a-p;_ylt=Ah.eR5pS9RverqdNriicUo9gPKB4?urn=nba-271334
No comments yet.
No trackbacks yet.
about 2 years ago - No comments
Home Team: Rockets / Lakers History vs. Rockets Game #12 – January 12, 2021 (9-3) 117 – 100 (3-6) Toyota Center – Houston, TX Team Leaders Lakers Points – James 26, Davis 19, 3 Players Tied With 14 Rebounds – Kuzma 11, Davis 10, James 8 Assists – Gasol 5, James 5, Horton-Tucker 4 Team Leaders Rockets…