Archive for
09.23.2010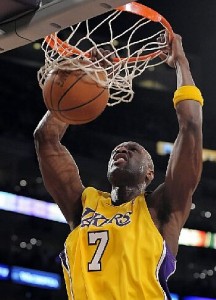 Lamar Odom, a 6'10" 30 year old forward remains the most enigmatic of players.  He may give you a double double in points and rebounds, or he may have so few as you can count them on one hand.  I believe his inconsistent play frustrates fans, his teammates, coaches, and management.  The double-edged sword here is that his potential, like Andrew Bynum's, is great enough that every trade rumor features him, and his salary is great enough that you could envision the Lakers doing it.  Growing up in New York, his favorite player was Magic Johnson.  And in his youth, Odom was an AAU teammate of Elton Brand and Ron Artest; his friendship with Ron-Ron would be another reason to keep him a Laker.  Lamar was drafted by the Clippers after playing at Rhode Island, then spent one year in Miami.  He came to the Lakers with Brian Grant and Caron Butler when Shaq was traded to the Heat.  This will be his 12th season in the NBA.  He is the Lakers 6th man and his main role is back-up to Pau Gasol at power forward position.  He's also capable of playing minutes at the small forward.  Last season, he played in all 82 games, 38 as a starter, and averaged 11 points and 10 rebounds.  This summer he was a major contributor on the US Team that won the gold medal in Turkey.  He also has a bronze medal from the 2004 Athens Olympics.  In case you hadn't heard, he's married to Khloe Kardashian.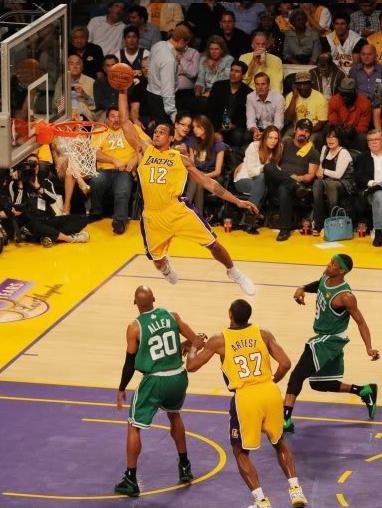 Over a period of several weeks this summer,  I expected to hear that Shannon Brown would be playing for the Knicks or some other team this season.  After all, he had opted out of his contract after contributing to the Laker's back-to-back championships. There were rumors circulating of bigger salaries being offered.  He had to know the Lakers, faced with having the league's highest payroll, would already be making a hefty payment to the league because of the luxury tax.  So in the end, after he received an extra year, a little more money and the privilege of continuing to get to play on a contending team, one concludes that it worked out well for all parties involved.  I was pleasantly surprised, although the argument could be made that Brown is not indispensable.  This 6'4″ 24 year old will be starting his fifth season in the pros after playing at Michigan State.  He will have the primary function of backing up Kobe at shooting guard. NBA analysts talk about the Lakers being neither young nor athletic.  Shannon Brown must be considered the exception to that statement, because of his youth and his vertical leap of 44.5″.  Last season he played in every game, averaging 21 minutes and 8 points for the regular season and 14 minutes and 5 points for the playoffs.  One hopes that with improved production from all off the bench, each starter will have a chance for more rest during the regular season and be in better physical condition when the playoffs start. 
And after his playing days, Shannon can continue with his side interest of guest starring in music videos.
Check out Toni Braxton http://www.youtube.com/watch?v=3cETtDC59-I and Monica http://www.youtube.com/watch?v=arCTOMGT9do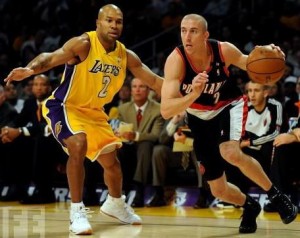 When examining the composition of the team from last season, the Lakers weakest position may have been at point guard. Thus, the Laker's most important free agent signing in the off-season may prove to be that of Steve Blake.  This 6'3″ 30 year old point guard will be playing for his 6th team in his 8th NBA season.   My hope is that Blake will be seeing a lot of minutes as the back-up to Derek Fisher, with them playing a fairly equal amount of minutes.  Or Blake could start and Fisher could come off the bench.  Interestingly enough, both took pay cuts this season.  He should be a better fit in the triangle offense than Jordan Farmar, with better 3-point shooting, a pass-first mentality, and a greater commitment to playing defense.  Blake averaged 8.5 points and 5 assists in 80 games last season.  Farmar averaged 7 points and 1.5 assists in 82 games last season.  I read how Blake is not as athletic or as young as Farmar, but I expect him to be more consistent and make fewer turnovers.  He was born in Hollywood, Florida.  Miami High, Blake's high school, won back-to-back championships and he won a NCAA championship with Maryland in 2002, where his jersey was retired a few years later.  The only thing missing from his accomplishments is an NBA championship, so he should be hungry for his first.  He follows the Miami Dolphins and University of Miami and golfs in his spare time.
Here is a good article on Blake http://www.ocregister.com/articles/steve-257796-blake-deceived.html