Archive for
09.08.2010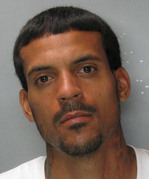 And from the world of, "I Knew This Off Season Was Going Too Well," newest Laker Matt Barnes was arrested tonight on felony assault charges, and booked into the Sacramento County Main Jail.
According to police, Barnes was arrested for assualting the woman "who lived with him and with whom he had a dating relationship."   He posted a $50,000 bond and was released shortly after 9:30 PM tonight.
According to Sacbee.com,
Both parties were said to have visible injuries, but Barnes was determined to be the primary aggressor according to police.  Barnes is also charged with maliciously obstructing the use of a telephone line.  He's scheduled to appear in court on Monday.
Wow, thanks Matt.  Great timing too.  Let's hope this isn't as bad as it sounds.
So he finally wins a title and a ring in the NBA, and the first thing Ron Artest wants to do is sell it?  Well that's what he plans to do, according a report on NBA.com.
In his campaign to promote mental health, Artest will sell his championship ring as a fundraiser to help provide more psychologists and therapists in schools.  Quite a bold and classy act for a man who once started US professional sport's most-notorious brawl in Detroit in 2003.
"You work so hard to get a ring, and now you have a chance to help more people than just yourself, instead of just satisfying yourself," he said. "What's better than that? For me, this is very important."
Artest hopes to raise awareness in one of college sport's most under-covered issues, mental health.  And by doing his part to help make mental health therapy more readily available to students at a younger age, there is hope it will curtail the attempts of suicide amongst college players.  According to the report on NBA.com, around 20-25 athletes in Division I sports attempt suicide each year.
You really need to take your hat off to Ron.  The turnaround he has made in his career, with all of his admitted emotional issues, is quite amazing.   Rarely do you see an athlete attack his own demons head-on during his playing years like he has, and come out a winner.
If you're interested in the entire story about Artest and his battle with mental-health awareness, you can read it on NBA.com.