vclakerfan
This user hasn't shared any biographical information
Posts by vclakerfan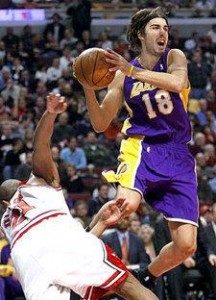 This 26 year old,  6'7″ shooting guard from Slovenia may actually be the luckiest man on earth.  He will have a salary of almost $5.5 million this season, has 2 championships on his resume, and lives in sunny Southern California.  I wonder if his super-hot athlete girlfriend enjoys St. Tropez as much as he does and calls him "The Machine".  Right now, life must seem pretty rosy for Sasha.  And to give him proper credit, he did hit two clutch free throws in Game 7 of the finals.  Because he is in the final year of his contract, you have to believe this could and probably will change.  My perception is he's fallen out of favor with the coach.  His minutes played went down from 1293 to 575.  His games played went down from 80 to 67.  His minutes per game went down from 16.2 to 8.6.  With a shooting percentage of 40% from the field, including 31% behind the 3-point line last season, you could understand the dissatisfaction with his production.  His average of 3 points per game does not seem irreplaceable.  It would really help the Lakers in their quest for a three-peat for Sasha to regain his shooting form from a few years back.  No matter how well he plays as the back-up to the back-ups in the guard position, I can't see him getting a similar contract after this season.    In fact, much like Carmelo Anthony in Denver, if Sasha is still with the Lakers when the playoffs roll around, I will be much surprised.  I think if the opportunity presents itself, the Lakers will trade him to some team looking to reduce salary for the following season.  And if that doesn't happen, he will either return at a reduced rate, or look to sign on with some other team.  Europe is another possibility.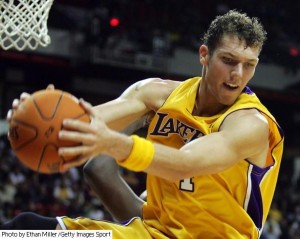 Let me start off by saying that a healthy Luke Walton is a productive Luke Walton.  He has good fundamentals, whether from his time at Arizona or being schooled by his father and brothers.  He is the type of player that works well in the designs of the triangle offense because he has a pass the ball, team first mentality that is really the basis of the triangle.  Move the ball continuously until you have a high percentage shot.  I hadn't realized, until starting to work on this, that he had the fewest games played and lowest point total for the Lakers last season.  He was also next to last in minutes played (Hello, Adam Morrison!)    The Lakers have many options at the small forward position. Ron Artest will be the starter, and Matt Barnes (hopefully), Lamar Odom, Devin Ebanks and Kobe could all play minutes as needed.  Given that Luke is 30 and has averaged approximately 60 games a season over his 7 year career, it's probably a good thing for the Lakers to have choices.  Luke stated that his focus during the off-season was to get his back stronger and healthier, and he work with a strengthening coach, a back specialist, a yoga teacher and a pilates instructor.  So ideally he will be in top form at the beginning of the season.  I don't think he was too happy about being limited to 29 games last year due to his back problems. I expect that should he have health or injury issues this season and miss half a season again, he will decide he's played enough, made enough money, and has as many rings as Pops (1 of 3 father/son combos).  Rumor has it that he was considering retirement already, and like Yao Ming, if he can't stay healthy, then he'll be gone.  For more on Luke's summer, visit Lakers.com
http://my.lakers.com/blogs/2010/09/03/luke-walton-summer-update/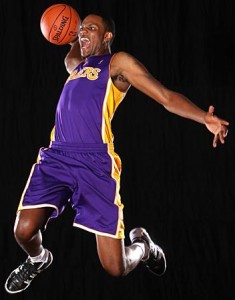 As rookies, Devin Ebanks and Derrick Caracter can count on spending a lot of time at the end of the bench during the regular season, if they're not shipped off to the Developmental League.  In either case, you can view the presence of the rookies as addition by subtraction, as they won't have to do much of anything to match the output of Josh Powell and Adam Morrison.  Plus the combined salaries are considerably lower.  And they are young.  Ebanks, a 6'9″ 215 lb small forward from West Virginia, is only 20.  Caracter, a 6'9″ 265 lb power forward from Texas-El Paso, is 22.  As second round draft picks, no one should suffer from super high expectations here.  I would only expect to see them playing in the preseason and games that are routs (one way or the other).   My hope is that they work hard in practice, learn the offense, and realize that their role, coming off the bench, is to preserve and build on any lead that the starters create.  Last season It seemed to me the bench was keen on jacking up long distance shots when they didn't turn the ball over, and letting the opposition drive to the basket without offering much resistance.  In short, perfo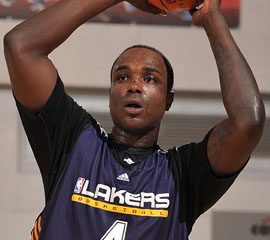 rming poorly both offensively and defensively.  
Ebanks has been compared to Trevor Ariza, and if he's as good defensively, that works for me.  The Lakers are a little thin at the power forward position, so I believe Caracter will have more opportunities for playing time.  There have been some comparisons to Shaq, as far as commitment to conditioning anyway.  His contract has incentives for him not to balloon up in weight.
The Lakers are one of the more veteran teams, so I like having a little youth as well. Management was sufficiently impressed with their potential to sign them to contracts, so here's hoping they contribute in some fashion to the Three-peat.
It's a long season, so having players that the coach has enough faith in to play during the season, thereby allowing the starters to rest, is critically important.
Don't worry, Laker faithful.  It's not that I am rooting for the Miami Heat to win the championship next year.  Far from it.  My hope is that they will be booed excessively on the road.  And in a few days, my blog will state the reasons the Lakers will be successful in their quest for a three-peat.  I just want to present the case for the possibility that the Heat could really win it all.   Let's look at 3 areas:
I observed during George Karl's absence from the Nuggets playoff series last year a team without direction, basically a chicken with it's head cut off.  They lacked discipline and focus.  I have always felt that Phil Jackson hasn't always got the respect he deserves.  His detractors like to point out that he has won with Michael Jordan, Shaquille O'Neal, and Kobe Bryant.  They fail to acknowledge that all of these players have been coached in the NBA with the same key teammates, and not achieved the success that they have with Phil.  In the last 20 years, 3 coaches have accounted for 17 championships.  And the 3 coaches with single championships in that span were Pat Riley, Larry Brown and Doc Rivers.  Now Erik Spoelstra is not a proven entity, but you know Riles will step in if the Heat lose 3 games in a row.  So the Heat have plan A and plan B set up for coaching for the season.
The Heat were much more successful, despite cap restrictions,  in developing a roster than I expected.  I thought it would be LeBron, Wade, Bosh and 11 guys that were either as old as the stone age (think Shaq) or no-names.  Instead, they have Udonis Haslem, Eddie House, Mike Miller, Mario Chalmers, Da'Sean Butler, Carlos Arroyo, Joel Anthony, James Jones, Jamaal Magloire, Juwan Howard, and Zydunas Ilgauskas.  While I don't believe those guys are the best at their positions, it was more than I thought the Heat would be able to do. 
And I know you're thinking – can you put a team together like that, have it mesh, and be successful in its first season?  And I am reminded of the Boston Celtics in 2007-2008, when Kevin Garnett and Ray Allen joined Paul Pierce.  I think the Heat have a lot to prove this season.  Teams that play the Heat, like those playing the Lakers, will be exerting extra effort because they know they must.  So I don't think the Heat will break the Lakers streak of 33 straight wins.  Nor do I think they will hold the best single season record.  And I do believe they will lose back to back games this season.  The East got better during the off-season, with key free agents either staying in the East or signing up in that conference.  I don't see any team in the West that vastly improved their roster.  Although I like the Thunder,  with the Lakers strengthening their bench, I think the Lakers will have an easier time reaching the finals this year.
So this year, I will be rooting for the Lakers and whoever is playing the Heat.  Three-peat time!
I used to respect Doc Rivers.  He had a solid NBA playing career.  He coached a championship team.  Then he started saying Laker starting five haven't beaten Celtic starting five.  And I'm thinking we've got some revisionist history going on here.  First of all, Kobe & Bynum, two of the five starting Lakers.  had surgery in the off-season.  So I wouldn't exactly call them healthy for the playoffs.  In addition, injuries are part of the game.  When the Celtics beat the Lakers in the 2008 Finals, I didn't go around saying the Lakers would have won if Bynum had played and Ariza had been healthier.  Nor do I recall hearing anyone in the Laker organization making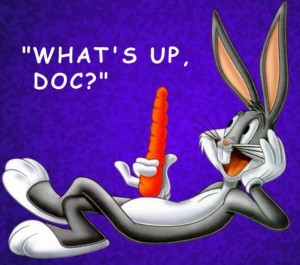 excuses.  You play the 5 best players you can and you live with the results.  Does Doc think the Celtics should be declared champions because Kendrick Perkins couldn't play in one of the seven games played for the finals? (The math here is 3 Celtic losses with Perkins playing + 1 loss with him not playing = Lakers are True Champions)
Let's review some NBA history.
In 2004, Karl Malone was the starting power forward for the Lakers, and he was injured prior to the finals match-up against the Detroit Pistons.  Now as the Lakers lost in 5 games, I don't believe they necessarily would have won had the Mailman been uninjured.   I think the Lakers were highly dysfunctional that season, Shaq's last as a Laker.    But this is another example of a team losing with one started being hobbled. When the Lakers lost to the Pistons 15 years earlier in 1989, they had entered the finals undefeated before being swept.  Now when your starting backcourt goes down with hamstring injuries, that's gonna affect team play.  And when one of those players is Magic Johnson – well, nuff said.   But just as you can have injuries (or calls) work against you, sometimes it's the other team that has misfortune.  Such as the Celtics in 2010 or the Pistons in 1988, when Isaiah Thomas played on a sprained ankle.  Even a couple of years earlier than that, I seem to remember Larry Bird suffering from some back problems.
So my point is that it balances out – some seasons your team is healthy and other years it's the opposing team that's in better shape.
It all has to do with how you respond to adversity.  To the 2010 Celtics credit, they managed to build a 13 point lead on the road in game 7.  They just couldn't close it out.   Thirty years ago, Kareem Abdul-Jabbar, starting center for the Lakers,  sprained his ankle in game 5.   The Lakers next game was in Philadelphia, but the team didn't get down.  Magic Johnson came onto center court, jumped as center, and played perhaps the greatest game of his career (OK, it was his greatest game).   Which is really how you always want you team to respond to a teammates injury, by pulling together and playing a little harder.  I'm just surprised Doc doesn't blame the refs, the commissioner or the weather for losing as well.  What's up, Doc?  I'll tell you what's up.  My blood pressure, from listening to you whine and make excuses about not winning.  Here's a challenge for you – make it to the finals this year and show everyone the Celtics weren't just another one and done team.