Posts tagged
list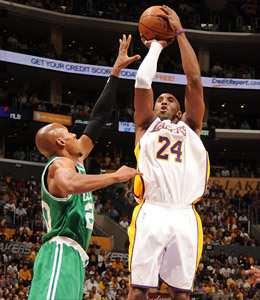 Further proof that Kobe Bryant's marketing image is in a huge upswing, the Lakers' guard is the fifth highest-earning athlete in the US, according to an article on SportsIllustrated.com.
Bryant, who won the NBA's Most-Valuable-Player Award this season and led the Lakers to an improbable NBA Finals berth, earned $35.5 million last year, including $16 million in endorsements. Tiger Woods leads the list at over $127 million. The only NBA player in the Top 5 besides Kobe is Lebron James at number three, at nearly $41 million.
Kobe's marketing image had taken a hit after rape allegations five years ago, then his openly-pubic feud with former-teammate Shaquille O'Neal, and ultimately the Lakers' struggles on the court. This season has served as vindication for Bryant.
He silenced his critics this yea as he had arguably his best team-oriented season, leading a group most figured would struggle to make the playoffs, to within two wins of an NBA title. He also did it after tearing a tendon in his pinkie that will require surgery before next season.
After last year's off-season turmoil where he demanded a trade from the Lakers, this summer should be much quieter for the content MVP, who hopes to bring home an Olympic gold medal for the US in Beijing in August.
We've been adding tons of new things to the site recently. Here's kind of a list of what we've been doing, aside from some of the obvious aesthetic changes you may have noticed to the front page.
We've redone the table colors on most of the stat pages so they are all shades of purple and gold now. They also highlight in yellow on mouseovers. Should be easier to read now.
Added an "Honors and Awards" field to the individual profiles for each player. Also, if a player led the league in any stat category, it is now denoted in red on their numbers.
Added the "Game Log" feature so you can track an individual's games throughout an entire season. So far we've only done the 2003-04 season completely, and we're currently working on 2004-05. We will eventually get these logs updated, but it's a huge undertaking and all box score information has to be manually entered. It's a lot of data entry, fun, fun, fun!
The "Season Summary" pages are now calculating the season points, rebounds, and assists leaders more accurately according to NBA stat guidelines for season leaders.
Hall of Fame players are now denoted with an asterisk (*) next to their names on the "All-Time Rosters" list.
The next few things on our to-do list starts with completing ALL the schedules/results for the team's history. That's our #1 priority right now. After that, we will fix the "Team Records" pages as they need some cleaning up and a little updating. And if we ever get through with those things, we're going to work on the game logs for each season. Also shortly, we are going to add a "Comments" feature to our news stories here, so you can add your own feedback and interact with us. Hopefully that will be up by the end of the week.
Despite the Lakers' devastating 97-91 loss to the Celtics in Game 4 of the 2008 NBA Finals, Kobe Bryant did move past Elgin Baylor into fourth place on the team's all-time playoff scoring list with 3,639 points. Should the Lakers extend the series past Game 5, it is conceivable that Kobe will pass Magic Johnson who sits in third place with 3,701 playoff points.
Kobe also tied Byron Scott for fifth place on the all-time playoff games list at 150. Should the Lakers extend this series to seven games, Kobe would tie Jerry West for fourth place at 153. Kobe is also within two field goals of passing Shaquille O'Neal for fourth place on the all-time list. Shaq sits at 1,309, Kobe at 1,308.

Not that anyone wants to remember this seeing as how the game ended, but the Lakers did have the largest first quarter lead of any game in Finals history, at 21 points. They led after one quarter 35-14