Posts tagged
superstar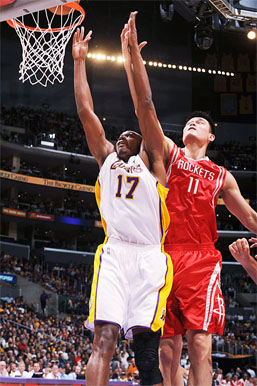 The Los Angeles continued their perfect start to the 2008-09 season, raylling from 16 down to defeat the Houston Rockets handily 111-82, running their record to 5-0.
It didn't start out as a thing of beauty though, as the Lakers struggled through most of the first half. They trailed by as many as 16 early in the second quarter before the second unit made a run, keyed by Trevor Ariza and Jordan Farmar, who scored 16 off the bench.
The Lakers finally took the lead near the end of the half and led 50-48 at the break. Kobe Bryant took over early in the second half, and wound up finishing with 23 points, and two spectacular blocks on Yao Ming and Tracy McGrady. Pau Gasol had his best game of the season, scoring 20 points, grabbing 15 rebounds, and blocking three shots.
The Rockets' "Big 3″ of Tracy McGrady, Yao Ming, and Ron Artest managed only 23 points combined, and shot a putrid 9-33 (27.2%) from the field. McGrady made only 1-11 shots from the floor, a 3-pointer early in the first half. The highlight of the night for the Rockets were the 20 points off the bench from second year guard Aaron Brooks, who hit 8-15 shots, including 3-6 from the arc.
The Lakers now go out on a tough two-game trip this week, playing at Dallas on Tuesday, and then in New Orleans Wednesday as part of a back-to-back. They return home on Friday to host to the Detroit Pistons and their newly-acquired superstar Allen Iverson.
This is the Lakers first 5-0 start since 2003-04.