Posts tagged
tony parker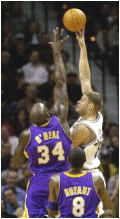 It took two overtimes, a Tim Duncan injury, and some clutch performances from Shaquille O'Neal and Kobe Bryant for the Lakers to finally win a game at the SBC Center.
The Lakers had dropped all five of their games at the Spurs' new arena, and needed to dig out of a 9-point 4th quarter hole to force overtime and eventually get the win, 120-117.
Despite missing league MVP Tim Duncan, and staring point guard Tony Parker, the world champs gave the Lakers all they could handle before finally succumbing in the second overtime. They hit only three of their last 19 shots.
Bryant led all scorers with 37 points, and O'Neal dominated the paint, scoring 35 points, grabbing 20 rebounds, and blocking four shots. He also hit the game-winning free throws. O'Neal entered the game shooting only 32% of the line on the young season before hitting 11-of-16 against the Spurs.
Karl Malone, who struggled with his shot all night and eventually fouled out, did manage to score 15 points and grab 19 rebounds. Gary Payton added 16 points and Derek Fisher scored 11 off the bench.
The Spurs were led by Manu Ginobili, who scored a career-high 33 points to go along with 12 rebounds.
The Lakers win moves them to 5-0 on the season, and their next game is tommorrow night in New Orleans, against a Hornets team playing very well at 4-1.
Link: LakerStats.com Box Score
Link: NBA.com Recap