Posts tagged
Shaquille O'Neal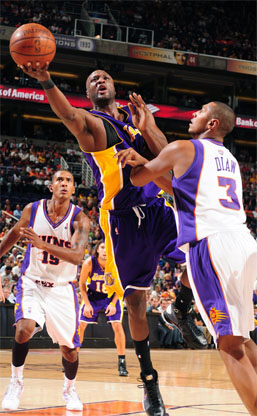 It was close for the first half, but the Lakers' bench flexed their muscle and dominated the second, beating the Phoenix Suns easily 105-92 in Phoenix on Thursday.
Kobe Bryant led all scorers with 24 points, but shot only 8-23 from the field. That was no matter, as the Lakers' bench piled up 43 points and were led by Lamar Odom's 13 points, Jordan Farmar's 11, and Trevor Ariza's 10.
The Lakers led 50-44 at the half, but turned up the defensive intensity in the second half. They led by as many as 18 points and cruised to the victory. The Suns shot only 44.2% from the floor, and committed 15 turnovers, to the Lakers 7.
Former Laker, Shaquille O'Neal, had a solid game, scoring 15 points and grabbing nine rebounds, but he didn't get much help. Amare Stoudemire led the Suns with 21 points, but missed several lay-ups and was mostly relegated to being a spot-up jump shooter.
There were few remnants of the Suns' former quick-strike offense, as new coach Terry Porter has insisted the team pound the ball into Shaq first. As a result, Steve Nash, who looks very pedestrian in this new offense, scored just 8 points, none until the middle of third quarter.
The Lakers play host to Denver on Friday, as part of a back-to-back. It will be the first chance to see the Nuggets with Chauncey Billups running the point.