Brett
This user hasn't shared any biographical information
Posts by Brett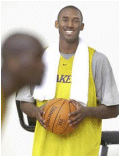 After missing the first day of training camp, Kobe Bryant arrived early Saturday morning, and attended a light practice with the his teammates.
Bryant admitted he was out of game shape, and said he even considered not playing until his legal troubles were settled. "Basketball just took a back seat, man," he said.
The All-Star guard said he decided only last month to play, with the blessing of his wife Vanessa. "You know, I have a job to do. This is my job, coming back to work. My family and I, we've been dealing with this for a while now and we're going to continue to deal with it. I'm coming back to work and do what I do," he added.
When asked if he was scared about his case, he replied, "Terrified. Not so much for myself, but just for what my family is going through. They had nothing to do with this, but just because their names have been dragged through the mud. I'm scared for them."
During the offseason, Bryant underwent surgery on his right shoulder and also had minor knee surgery the day after he is charged with committing the sexual assault. He said stress affected him to the point where he couldn't train.
"I've got work to do," Bryant said. He also spent part of Saturday riding a stationary bike.
Bryant is due back in court next Thursday in Eagle, Colorado, for the premilinary hearing to determine if he will stand trial on rape charges.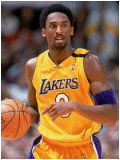 Kobe Bryant, who was scheduled to fly out on a private plane with other Laker veteran players for Hawaii's training camp, did not make the trip Thursday, October 2nd, due to being "under the weather."
Lakers general manager Mitch Kupchak had no other information on Bryant's absence, and refused to say anything further regarding the situation.
Laker coach Phil Jackson added, "We're obviously disappointed that Kobe's not here with the basketball club, with his teammates. This is a team thing, it's about us as a basketball team and what the best is for our team. So we'll commence tonight and go on as usual. No one is bigger than this team or the game. That's the way it is."
Earlier in the day, Colorado judge Frederick Gannett ruled that the accuser' in Bryant's sexual assault case, would not have to testify at the preliminary hearing, and that the hearing would be open to the public. There have been no indications that Bryant's absence from training camp has anything to do with these events.
Jackson said he did not know when or even if Bryant would show up for the team's training camp in Hawaii, but he did say, "We have plenty of players, we have a good team, we're confident in what we're going to do. We're hopeful Kobe will join us and that's as much I can say about it."
Reporters have already flocked to the the islands in droves, hoping to get comments from Bryant, and the team is expecting even more media attention over the next few days. Jackson said he tried to call the Laker All-Star on Wednesday, but was told he wasn't taking calls.
Stay tuned.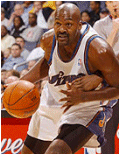 Bryon Russell, who spent most of his 10-year career with Karl Malone and the Utah Jazz, has signed with the Lakers today.
Russell, who averaged 4.5 points and 3.0 rebounds in 70 games with the Washington Wizards last season, was a second-round draft pick of the Utah Jazz in 1993. The Cal State Long Beach graduate spent his first nine seasons in Utah, and has the dubious distinction of being the defender on Michael Jordan's title-clinching shot in the 1998 NBA Finals.
The Lakers hope Russell can fill the small forward hole left vacant by Rick Fox, who continues to recover from off-season ankle surgery, and may not be able to play until January.
Russell has career averages of 8.7 points, 3.7 rebounds and 1.3 assists.
With the NBA regular season just around the corner, we figured now would be a good time to unveil our brand new message forums here at LakerStats.com.
Yes we know there are already a lot of good Laker message boards out there, but we think you'll enjoy our board's format and ease of use. We will be offering video downloads very soon on the board, so you will be able to save some great Laker moments to your hard drive. Of course, this is a new endeavor and will take some time to build up, but we've got the content to do it, and your contributions will only enhance the forums.
So if you get a few minutes, come stop by the new board, take 30 seconds and register a username, and start participating in our discussions.
Link: LakerStat.com's Message Forums