Archive for
September, 2003
With the NBA regular season just around the corner, we figured now would be a good time to unveil our brand new message forums here at LakerStats.com.
Yes we know there are already a lot of good Laker message boards out there, but we think you'll enjoy our board's format and ease of use. We will be offering video downloads very soon on the board, so you will be able to save some great Laker moments to your hard drive. Of course, this is a new endeavor and will take some time to build up, but we've got the content to do it, and your contributions will only enhance the forums.
So if you get a few minutes, come stop by the new board, take 30 seconds and register a username, and start participating in our discussions.
Link: LakerStat.com's Message Forums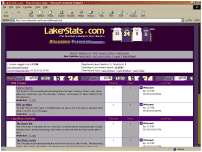 Brian Shaw, an integral member of the Lakers three straight championships, will retire after 14 seasons in the NBA. He will take a front office position with the team.
Shaw, a 6'6″ guard who graduated from the University of California at Santa Barbara, was well-respected by teammates for his steady play. He will be fondly remembered by Laker fans for his barrage of three-pointers in one of the team's most memorable playoff games, the Game 7 4th quarter comeback against the Portland Trail Blazers in the 2000 Western Conference Finals.
Shaw was taken in first round of the 1988 NBA draft by the Boston Celtics. He also spent time with Miami, Orlando, Golden State, Philadelphia, and Portland, and averaged 6.9 points in 943 games.
Besides the three titles he won with the Lakers, Shaw also teamed with Laker center Shaquille O'Neal in Orlando, when the two helped lead the Magic to the NBA Finals in 1995.
Media Link: Yahoo! – "Lakers guard Brian Shaw retiring, taking front office position"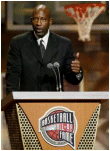 Former Laker forward James Worthy and legendary Laker broadcaster Chick Hearn were among the seven inducted into the Basketball Hall of Fame on Friday night, September 5th, in Springfield, MA.
Worthy, who spent all 12 of his seasons (1982-1994) with the Lakers, was an integral part of the "Showtime" Lakers who dominated the NBA in the 80's. He won titles with the team in 1985, 1987, and 1988. Although, he often played second fiddle to Magic Johnson and Kareem Abdul-Jabbar on those great teams, Worthy was the model of consistency, averaging 17.6 points for his career, and thrilled fans with his fast-break slam dunks and his amazingly quick turn-around baseline jump shot.
Worthy was famous for his ability to come up big in important games, like Game 7 of the 1988 NBA Finals, when he scored 36 points, grabbed 16 rebounds, and dished out 10 assists as the Lakers captured back-to-back titles that season by beating the Detroit Pistons 102-100. Worthy was named the series' MVP, and games like that helped him earn the nickname, "Big Game" James.
The man who gave him that nickname, Francis Dale "Chick" Hearn, was the team's first and only play-by-play announcer after the franchise moved to Los Angeles in 1960. Chick called an amazing 3,338 consecutive games from November 21, 1965-December 16, 2001, and was at the mic for all of the team's nine championships in Los Angeles.
He missed a large chunk of the 2001-02 season due to heart and hip problems, but "Golden Throat" returned to the mic just in time to call the Lakers third consecutive title over the New Jersey Nets in 2002. Hearn died on August 5, 2002 at age 85, after sustaining head injuries from a fall at his home.
Hearn's rapid-fire approach to calling games was unparalelled by any sports broadcaster, and he is widely credited with coining the phrases such as "slam dunk" and "air ball," and is famous for his Chick-isms such as "the mustard's off the hotdog," faking players "in the popcorn machine," and putting ballgames "in the refrigerator."
Others enshrined at Springfield included, former Celtics star center Robert Parish, Harlem Globetrotters star Meadowlark Lemon, Earl Lloyd, who broke the NBA color barrier, and former Louisiana State women's basketball coach Leon Barmore.
Media Link:Yahoo! – "Worthy, Parish enter shrine"
Link: NBA.com History – Hall of Fame 2003