Lakers End Slide, Beat Raptors 94-79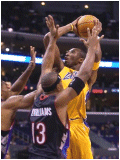 After dropping their last two on the road, the Los Angeles Lakers returned home to Staples Center and re-established a defensive presence, beating the Toronto Raptors 94-79.
The Lakers led the game the entire way, and showed several flashes of the dominance that people expect with a lineup that includes Shaquille O'Neal, Kobe Bryant, Karl Malone, and Gary Payton. They stretched the lead to as many as 20 in the third quarter, and coasted to the easy victory.
The Lakers defense re-emerged, as the Raptors shot just 35% (24-of-69) from the field, and turned the ball over 19 times. The Lakers on the other hand, were able to get a strong performance down low from O'Neal, who led the team with 23 points and 14 rebounds. Shaq hit 9-of-12 from the floor, but continues to struggle from the free throw line, making only five of 15 attempts.
The Lakers offensive balance also returned as Bryant scored 19, Malone 17, and Payton with 16. Still more production is needed from the bench, as they contributed only 13 points, seven of them by Derek Fisher.
In a game marred by some poor shooting and some sloppy play, the Lakers turned a 10-point halftime lead into a 65-45 blowout midway through the 3rd quarter, on the strength of their defense and ability to get easy transition baskets. The added pressure on defense allowed the Lakers offense to flow more smoothly from time to time, but still isn't consistent enough yet.
The Raptors, who fell to 0-4 on the road, were led by Vince Carter, who scored 23 points but hit only 7-of-22 shots, including 1-of-6 from beyond the arc. Morris Petersen scored 16, and Lamond Murray chipped in 15 off the bench.
The Lakers next game is Friday against the Detroit Pistons at Staples Center.
Link: LakerStats.com Box Score
Link: NBA.com Recap
No comments yet.
No trackbacks yet.
about 1 year ago - No comments
Even though it was a very disappointing season on the court for the Lakers, we wanted to make sure our stats database was completely up-to-date after its conclusion, and that has been finished. Hopefully next year we'll have a lot more to celebrate. Any questions about anything on the site, please feel free to ask…