LAKER ROSTER: Steve Blake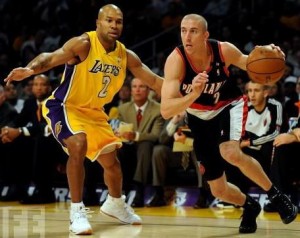 When examining the composition of the team from last season, the Lakers weakest position may have been at point guard. Thus, the Laker's most important free agent signing in the off-season may prove to be that of Steve Blake.  This 6'3″ 30 year old point guard will be playing for his 6th team in his 8th NBA season.   My hope is that Blake will be seeing a lot of minutes as the back-up to Derek Fisher, with them playing a fairly equal amount of minutes.  Or Blake could start and Fisher could come off the bench.  Interestingly enough, both took pay cuts this season.  He should be a better fit in the triangle offense than Jordan Farmar, with better 3-point shooting, a pass-first mentality, and a greater commitment to playing defense.  Blake averaged 8.5 points and 5 assists in 80 games last season.  Farmar averaged 7 points and 1.5 assists in 82 games last season.  I read how Blake is not as athletic or as young as Farmar, but I expect him to be more consistent and make fewer turnovers.  He was born in Hollywood, Florida.  Miami High, Blake's high school, won back-to-back championships and he won a NCAA championship with Maryland in 2002, where his jersey was retired a few years later.  The only thing missing from his accomplishments is an NBA championship, so he should be hungry for his first.  He follows the Miami Dolphins and University of Miami and golfs in his spare time.
Here is a good article on Blake http://www.ocregister.com/articles/steve-257796-blake-deceived.html
No comments yet.
No trackbacks yet.
about 1 year ago - No comments
Even though it was a very disappointing season on the court for the Lakers, we wanted to make sure our stats database was completely up-to-date after its conclusion, and that has been finished. Hopefully next year we'll have a lot more to celebrate. Any questions about anything on the site, please feel free to ask…