Posts tagged
knicks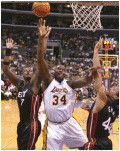 The Los Angeles Lakers got out quickly in the opening moments, and then cruised to their 20th straight home win, beating the Miami Heat 99-77 on Sunday night.
Thanks to a great 1st quarter, led by Gary Payton, who scored 11 of his 13 points in the first, the Lakers jumped out quickly to a 23-9 lead and never looked back. The Heat only as close as nine points once in the 2nd quarter, but trailed by double-figures for all but 2:12 of the game.
Kobe Bryant led all scorers with 27 points, including 15-of-16 from the free throw line. Shaquille O'Neal scored 14 points, despite playing only 23 minutes dude to foul trouble. Karl Malone added 11 points, and grabbed a team-high 10 rebounds.
The Lakers played their third straight solid defensive game, holding the Heat to an awful 36% from the field (29-of-80). Miami also missed all 12 of their shots from beyond the arc. The Lakers shot 45% (33-of-74) from the floor, and made 33 of 46 from the foul line.
The game was plagued by an abundance of foul calls and far too many turnovers, 20 for Miami, and 17 for the Lakers.
Former Clipper Lamar Odom led the visitors with 18 points in his return to Los Angeles, and former Laker Eddie Jones added 12, but missed all five of his 3-point attempts.
The Lakers now head out for a quick two-game road trip. They play Tuesday in Detroit and Wednesday in New York against the Knicks, before returning home for a Friday night game against the Chicago Bulls.
Link: LakerStats.com Box Score
Link: NBA.com Recap