Posts tagged
honor
I have been so upset and shocked the last few days as I'm sure you have, I haven't really thought how to post something on the site. I still don't know what to really say, except the basketball world lost an icon on Sunday, not to mention Kobe's lovely 13-old daughter Gigi, and seven other innocent people whose families have lost love ones. It's a horrible, horrible, unfathomable tragedy that is just so hard to accept, but there's no choice but to move forward of course.
I've always used Kobe's image as part of the avatar for LakerStats on social media, and his picture has always been on the top left of the site, so I won't have to make any changes to honor him that way on here. All I can say is RIP to all those innocent people who perished, my prayers go out to Vanessa, Kobe's children, and all the families and friends who lost loved ones. Also best wishes to Laker fans, Kobe fans, and all basketball fans who have been hit hard by this terrible event. Mamba Out…But Never Forgotten!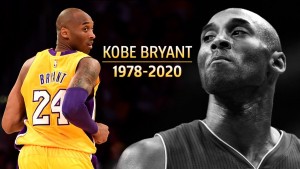 On a night when Kobe Bryant scored a season-low nine points, Lamar Odom picked up the slack and scored 28, as the Lakers pulled away from the Philadelphia 76ers in the fourth quarter, and won 93-81 at the Wells Fargo Center on Friday.
In a game devoid of artistic merit, the Lakers put together 12 great minutes of basketball in the fourth quarter, and turned a 62-58 deficit into a 12-point win, led by the play of Odom and reserve forward Matt Barnes.
Odom hit back-to-back three-point plays early in the fourth quarter to give the Lakers a 66-64 lead with a little over nine minutes left.   Barnes, who scored 15 points to go along with 10 rebounds off the bench, kept the rally going with solid defense and timely shooting. His three-pointer with just over seven minutes left was part of a 27-8 Lakers' run in the quarter, and put them ahead 71-64 as they never looked back.
Bryant, a day after having the gym at his alma mater Lower Merion High School renamed in his honor, had trouble getting into a rhythm all night.  He scored just nine points on 3-11 shooting, and shockingly was never really a factor in the game.   On this night, however, it didn't matter, as the Lakers' frontcourt just dominated the game.
Pau Gasol scored 19 points and grabbed 13 rebounds.  Nobody else on the Lakers had more than eight points.
The game was very choppy for three quarters, and neither team shot the ball well, especially from the three point line.  The Lakers shot a miserable 3-15 (20.0%) from beyond the arc, and the 76ers were an even more-inept 3-21 (14.3%) from long range.  The Lakers have now held their opponents to under 90 points in five of their last eight games, and haven't given up more than 94 points in their last six.
The 76ers were led by Spencer Hawes and Andre Iguodala, who both scored 18 points.  Hawes also added 13 rebounds.  No other Sixer scored in double-figures, and the team shot just 37.5% from the floor for the game.  Despite that however, they led 62-58 after three quarters, before it came apart in the final stanza.
The Lakers have now won four straight, seven out of eight, and are 5-1 on this current road trip that finishes up Sunday in Toronto.   The Lakers beat the Raptors 108-103 at Staples Center on November 5, in a game that was tight throughout.   Pau Gasol scored 30 points that night, Kobe Bryant added 23.
Link: Lakers @ 76ers Box Score