Posts tagged
shooter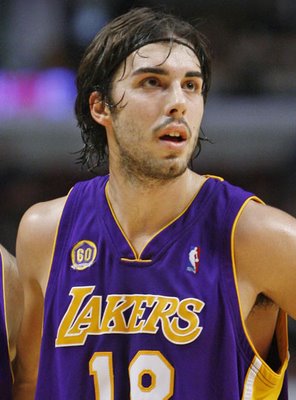 According to the Riverside Press-Enterprise, the Lakers have signed restricted free-agent guard Sasha Vujacic to a three year contract, worth $15 million.
The signing comes just one week after the Lakers failed to match the Warriors' 4-year, $17 million deal for their other restricted free-agent, forward Ronny Turiaf. There were also serious rumblings from Vujacic's camp that he may return to Europe for more money.
The Lakers originally offered a 3-year, $12 million deal that Vujacic and his agent turned down, and then threatened to accept an offer from a team in the Europe if they didn't get a better one from the Lakers.
"The Machine" had his best season last year, as he averaged 8.8 points and 43.8% of his 3-pointers off the bench for the Western Conference champs. He also had a very memorable Game 3 of the NBA Finals, where he scored 20 points and nailed a clutch 3-pointer in the final minutes to give the Lakers the victory.
Management's goal this offseason was to keep both Turiaf and Vujacic, and after they lost one, they wanted to make sure they kept one of their top bench players, and their most prolific long-range shooter. They did.