Posts tagged
sasha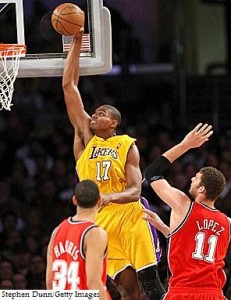 As with any NBA player, the question with Andrew Bynum is will he live up to his potential?  He could be the 2nd best center in the league after Dwight Howard.  Bynum's health is the difference between the Lakers being in contention for a championship or being an intimidating juggernaut.  While the frequency of his injuries is a concern, the timing of them has also been a problem.  Drew is to be commended for playing hurt in last season's playoffs after not playing in the 2008 finals, but I am wondering if it is possible for him to be healthy for the playoffs.  He has played all 82 games only one time in his 5 years; he has averaged 56 games per season.  Bynum did not play college ball, so entering his 6th season he will only be 23 at the start of the season.  Of course, he will not be playing the start of the season as he recovers from knee surgery in the off-season.  If he can come back healthy (relatively) and stay healthy and average double-doubles for the playoffs, then I think the Lakers should keep Bynum.  If Bynum misses the start of the season, misses more time during the regular season, and is limping around in the playoffs, then the Lakers should seriously consider trading Bynum and his $13.7 million contract.  Plan B for the Lakers, which you will be seeing the at the start of the season, is to have Gasol play center and have Odom start at power forward.  Doing this reduces the depth of the Laker bench.  So as with Sasha and Walton, I consider this a pivotal year in Bynum's career.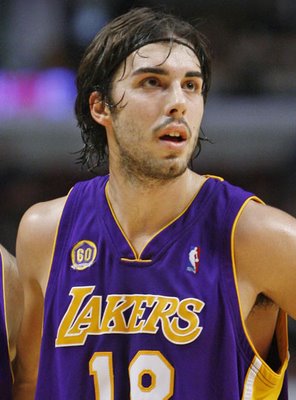 According to the Riverside Press-Enterprise, the Lakers have signed restricted free-agent guard Sasha Vujacic to a three year contract, worth $15 million.
The signing comes just one week after the Lakers failed to match the Warriors' 4-year, $17 million deal for their other restricted free-agent, forward Ronny Turiaf. There were also serious rumblings from Vujacic's camp that he may return to Europe for more money.
The Lakers originally offered a 3-year, $12 million deal that Vujacic and his agent turned down, and then threatened to accept an offer from a team in the Europe if they didn't get a better one from the Lakers.
"The Machine" had his best season last year, as he averaged 8.8 points and 43.8% of his 3-pointers off the bench for the Western Conference champs. He also had a very memorable Game 3 of the NBA Finals, where he scored 20 points and nailed a clutch 3-pointer in the final minutes to give the Lakers the victory.
Management's goal this offseason was to keep both Turiaf and Vujacic, and after they lost one, they wanted to make sure they kept one of their top bench players, and their most prolific long-range shooter. They did.