Posts tagged
lot
Yes you can believe, the stats for the site will be getting updated before the 2018-19 season begins. Now there's a lot to update over the last two years, so it will probably take 2-3 months to get everything where it needs to be, but with the excitement surrounding the team for the upcoming season, we will get the site on board! Sorry for being lax the last few years, but all the losing even got to me after a while, and made it hard to want to keep it updated…and I wasn't really sure if anyone even cared anyway. But I did get some inquiries about it, and some people were actually pretty mad it wasn't updated. So OK we're doing it! And to start it off, we did update the logo!
The
By The Numbers
recap for the Lakers' 103-90 win over the Sacramento Kings at Staples Center on Sunday night. The Lakers are now 3-4, and next play home to San Antonio on Tuesday night.
18,997
The number of free tacos Jack in the Box will have to give out after the Lakers held yet another opponent under 100 points on Sunday in the win.
143
The number of rebounds Pau Gasol and Dwight Howard have grabbed combined this season. Just looked like a nice number to mention. That is of course over 10 per game, and is sure to improve as Howard gets his legs back. He had his Laker career-high with 18 boards Sunday.
102
To keep in the rebounding mode, the number offensive rebounds the Lakers have grabbed this year through the first seven games. That's nearly 15 a night…impressive. Jordan Hill grabs 3.5 off the bench alone.
79
The combined number of points the Lakers starting five scored minus Steve Blake scored. Even more impressive was they shot 27-54 (50%) from the floor as well. Dwight Howard led all scorers with 23 points, to go along with his 18 rebounds and three blocks.
60
The percentage of shots the Kings missed on Sunday, hitting only 36-90 from the floor, including a miserable 1-10 from Marcus Thornton. Laker opponents are shooting just 42.4% from the field for the season.
34
The number of minutes it took Jason Thompson to foul out against Dwight Howard. I know that's a lot minutes, but so what, it's a fun stat to mention.
22
In one of the poorer stats of the night, the amount of points the Lakers bench scored. They struggled again except for Jordan Hill and Darius Morris, who continue to lead the reserves with solid play. Antawn Jamison had another tough night…no points and only two shot attempts.
11
The number of minutes it took the Kings' Jimmer Fredette to score 18 points…wow! He went 7-9 from the floor, 3-5 from beyond the arc, and 1-1 from the line. Pretty impressive stat line.
2
The Lakers current winning streak. Hey it's better than a two-game losing streak.
More numbers after San Antonio on Tuesday!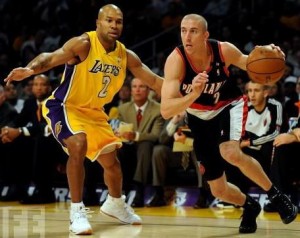 When examining the composition of the team from last season, the Lakers weakest position may have been at point guard. Thus, the Laker's most important free agent signing in the off-season may prove to be that of Steve Blake.  This 6'3″ 30 year old point guard will be playing for his 6th team in his 8th NBA season.   My hope is that Blake will be seeing a lot of minutes as the back-up to Derek Fisher, with them playing a fairly equal amount of minutes.  Or Blake could start and Fisher could come off the bench.  Interestingly enough, both took pay cuts this season.  He should be a better fit in the triangle offense than Jordan Farmar, with better 3-point shooting, a pass-first mentality, and a greater commitment to playing defense.  Blake averaged 8.5 points and 5 assists in 80 games last season.  Farmar averaged 7 points and 1.5 assists in 82 games last season.  I read how Blake is not as athletic or as young as Farmar, but I expect him to be more consistent and make fewer turnovers.  He was born in Hollywood, Florida.  Miami High, Blake's high school, won back-to-back championships and he won a NCAA championship with Maryland in 2002, where his jersey was retired a few years later.  The only thing missing from his accomplishments is an NBA championship, so he should be hungry for his first.  He follows the Miami Dolphins and University of Miami and golfs in his spare time.
Here is a good article on Blake http://www.ocregister.com/articles/steve-257796-blake-deceived.html