Posts tagged
Lakers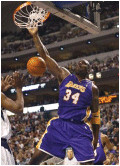 In a game that wasn't nearly as close as the final score, the Lakers continued their domination over the Mavericks, as they cruised to their eighth straight win, 114-103 in Dallas on Thursday night.
For the second straight night, Shaquille O'Neal was a monster on the defensive end. He controlled the defensive glass, blocked shots, and forced the Mavs into several ill-advised shots. He finished the game with 25 points, 19 rebounds, five assists, and three blocked shots.
The Lakers took the lead from opening tip, and getting up by as much 27-11 in the first quarter. They led the game 51-42 at halftime, and Dallas never really seriously challenged the rest of the way.
The Mavs struggled from the floor all game, as the Lakers' defense held the high-scoring team to 37.4% shooting (37-of-99) from the field. The Lakers shot 44.2% (38-of-86) from the floor and made 31-of-40 (77.5%) from the charity stripe.
Kobe Bryant led all scorers with 32 points. Gary Payton scored 17 and dished out eight assists, and Karl Malone added 11 points, nine rebounds, and six assists.
Steve Nash led Dallas with 30 points and eight assists, and was the recipient of two stitches after being hit in the mouth with a Malone elbow in the third quarter. The Mavs played without leading scorer Dirk Nowitski, who has an inured ankle.
The Lakers have now beaten the Mavericks 46 of the last 51 times the two teams have met. The Lakers current eight-game winning streak is their longest in two seasons.
The Lakers next game is Sunday night at Staples Center against the Utah Jazz.
Link: LakerStats.com Box Score
Link: NBA.com Recap