Posts tagged
start
According to ESPN.com, the Lakers have fired head coach Mike Brown, after the Lakers' Western Conference worst start at 1-4.
No word on a permanent replacement, but word is assistant coach Bernie Bickerstaff will coach the team in the interim. The Lakers start a six-game homestand at Staples Center tonight against the Golden St. Warriors.
Let the Phil Jackson rumors start to swirl!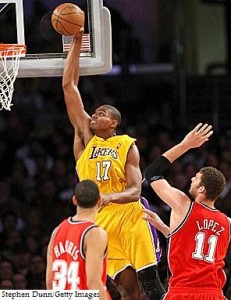 As with any NBA player, the question with Andrew Bynum is will he live up to his potential?  He could be the 2nd best center in the league after Dwight Howard.  Bynum's health is the difference between the Lakers being in contention for a championship or being an intimidating juggernaut.  While the frequency of his injuries is a concern, the timing of them has also been a problem.  Drew is to be commended for playing hurt in last season's playoffs after not playing in the 2008 finals, but I am wondering if it is possible for him to be healthy for the playoffs.  He has played all 82 games only one time in his 5 years; he has averaged 56 games per season.  Bynum did not play college ball, so entering his 6th season he will only be 23 at the start of the season.  Of course, he will not be playing the start of the season as he recovers from knee surgery in the off-season.  If he can come back healthy (relatively) and stay healthy and average double-doubles for the playoffs, then I think the Lakers should keep Bynum.  If Bynum misses the start of the season, misses more time during the regular season, and is limping around in the playoffs, then the Lakers should seriously consider trading Bynum and his $13.7 million contract.  Plan B for the Lakers, which you will be seeing the at the start of the season, is to have Gasol play center and have Odom start at power forward.  Doing this reduces the depth of the Laker bench.  So as with Sasha and Walton, I consider this a pivotal year in Bynum's career.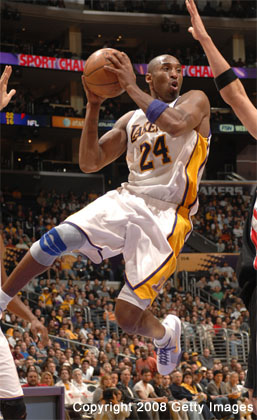 Here is a collection of quotes following the Lakers 112-99 win over the Toronto Raptors at Staples Center, to run their record to an NBA-best 14-1.
Lakers Coach Phil Jackson
On Kobe Bryant:
"He's looking to pass the ball. I thought he stayed aggressive in the things that we had to have."
On Team:
"I think 10-5 would have been great with us, but we've been playing well enough to get that momentum. Now we're just playing on momentum most of the time."
"It's human nature to get lackadaisical and for us to believe that things are going to go right for us because they have in the past. But we are only successful in the moment. And you have to prove it again and again, especially in sports."
On Andrew Bynum and his injury:
"There's going to be a period of adjustment he has to go through. He's going to have to find a way to get through this. And if he does, then we're going to feel pretty good until the next incident happens—and then we'll have to deal with that at that time. But unless this moves around in his foot, we're in pretty good shape if he can adjust his play to accommodate that."
Lakers Guard Kobe Bryant
On needing 38 points to become the youngest to 22,000 points:
"To be honest, I don't follow anything of that sort. I just go out there and do what I do, I don't care about that stuff. You guys got me all wrong. I just play. I play hard, and I play the same way all the time. I never concern myself with milestones or anything like that."
"We're just playing well, playing in rhythm. We understand each other. We've been together for a while."
"The first quarter was a little bit of a slow start for us defensively, but then we were able to dig our heels in and get used to the rhythm. We tried to corral Bosh a little bit. They had some double-digit deficits and the rhythm of the game was kind of getting away from them a little bit. They were looking to take some 3-point shots in transition and kind of got away from going to him a little bit."
Lakers Forward Pau Gasol
"We expect to win every night. We have great expectations. Fourteen-and-one doesn't surprise me with the team we have."
Lakers Center Andrew Bynum
"Our rebounding was big. They weren't very impressive inside with J.O. (Jermaine O'Neal) out and we were able to take advantage of it."
Lakers Forward Trevor Ariza
"We have the versatility to play any kind of way. The way the NBA is, that's a good thing because we can slow the ball down, we can run up and down the court, we can do whatever."
On putting inferior teams away early:
"Honestly, I don't know what it is. We're not doing it on purpose. Everybody in the NBA is a pretty good team. Most of the time, we can't just beat them in the first quarter."
Raptors Coach Sam Mitchell
"I saw a lot of good things. We showed a level of toughness. I thought we boxed out. We just couldn't get any rebounds. We got some good looks, but didn't make them all."
Raptors Forward Chris Bosh
"I know that good teams are not going to let me just get off offensively. They did a great job of trapping and their rotations were really good. I didn't get too many good shots all night and I made some costly turnovers."