Kobe Saves The Day, Lakers Sink Bucks 113-107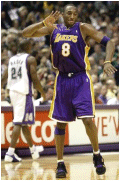 If tonight was any indication of Kobe Bryant's health, Laker fans have nothing to worry about. Bryant hit a variety of 4th quarter shots as he helped rally the Lakers from behind to beat the Bucks 113-107 in Milwaukee.
The Lakers, who trailed most of the second half, overcame as much as a 10-point deficit to take control of the game in the final minute. Bryant hit the go-ahead 3-pointer with 1:30 left giving the Lakers a 103-101 lead, which they never relinquished. The All-Star guard then hit a jump shot with 30 seconds left to seal the victory.
Bryant scored a season-high 31 points, to go along with eight assists and seven rebounds, leading another very balanced Laker attack, with six players in double-figures. Shaquille O'Neal scored 23 and grabbed a game-high 14 rebounds. Gary Payton scored 19 in his return to Milwaukee, and Karl Malone, despite shooting only 4-of-15 from the field, scored 11 points to go along with his 11 rebounds.
The Lakers led the game by as many as 12 in the first half. But poor free throw shooting and a barrage of Bucks 3-pointers put the Lakers in a second half hole that they barely were able to dig out of. A late 11-0 run in the 4th quarter was capped by an O'Neal dunk and free throw helping the Lakers remain undefeated at 4-0.
The Bucks were led by Michael Redd who tallied a game-high 36 points, including 5-of-7 from beyond the arc.
Link: LakerStats.com Box Score
Link: NBA.com Recap
No comments yet.
No trackbacks yet.
about 2 years ago - No comments
Home Team: Timberwolves / Lakers History vs. Timberwolves Game #29 – February 16, 2021 (22-7) 112 – 104 (7-21) Target Center – Minneapolis, MN Team Leaders Lakers Points – James 30, Schroder 24, Harrell 17 Rebounds – James 13, Harrell 6, Gasol 5 Assists – James 7, 3 Players Tied With 3 Team Leaders Timberwolves Points –…